The ISL fans will witness the clash between the league leaders when Bengaluru FC face FC Goa at the Kanteerava Stadium on Friday. The battle for supremacy in the league table might be a prelude to the final of the ISL 2108-19. While Bengaluru FC will want to win this match and usurp Goa as the league leaders FC Goa are not likely to surrender meekly.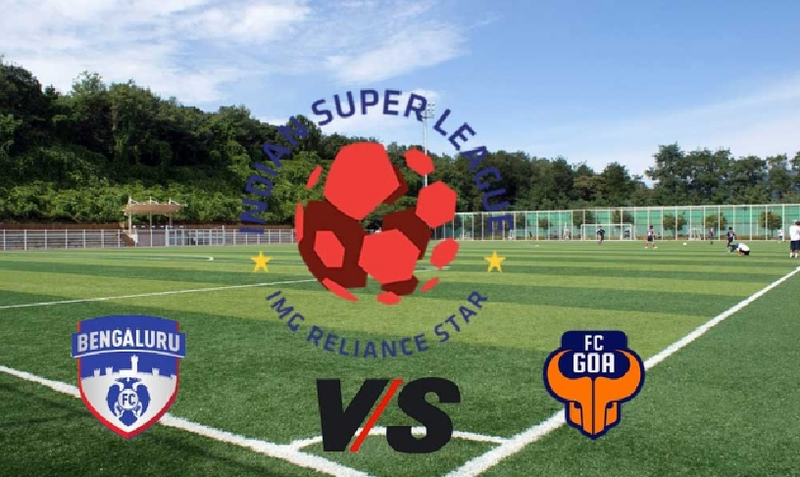 FC Goa
The Gaurs have had a superb stint in the ISL after the winter break. Their defence, which was their weak point, has improved leaps and bounds this half of the season as compared to the previous season and the first half of this one. Carlos Pena and Mourtada Fall have done a brilliant job keeping the opposition strikers at bay. Ahmed Jahuoh has contributed his might also sending his long passes to the wingers and Jackichand seems to be enjoying himself as he makes his runs down the right flank. With confidence in his back-line, and with the full squad available for selection, Sergio Lobera will want his boys to go on the offensive from the word go.
Bengaluru FC
Bengaluru FC seems to have lost some steam after the long break for the winter. They have lost three of their matches played since and are not looking like the confident side which they were before. They will have to tighten up their defences if they are to keep the FC Goa strikers from finding the back of the net. Miku, their Venezuelan striker is out of form at the worst possible time for Bengaluru FC. Sunil Chettri, who was given a break in their clash against Delhi Dynamos FC, will definitely be in the starting line-up against FC Goa. Though Bengaluru FC has come out trumps against FC Goa in their first meeting this season, that was three months ago. A lot has changed since then.
Head to head

The Bengaluru Fc franchise being a new entrant in the ISL the two teams have only faced each other thrice. Bengaluru have won two of the encounters and FCGoa one. Interestingly, FC Goa lost their home game to Bengaluru Fc three months back in the first round of matches this season.
Current form of the two teams

Bengaluru FC has not had a very good outing in their last six matches. Their scorecard reads two wins, three losses and a draw. FC Goa, on the other hand, has won four of their last six games while drawing the other two. Moreover, they have let in only one goal in their last six games while remaining keeping a clean sheet in their last five.
Prediction:
Despite FC Goa being on a roll and Bengaluru FC being out of form, both these teams are very good and predicting an outcome becomes difficult. But given FC Goa's new found confidence in their defence I would put my money on FC Goa winning the game outright.
Score: Bengaluru FC 1- 2 FC Goa