Bengaluru FC will be hosting Northeast Utd FC in the return leg of the semi-final of the ISL league at the Kanteerava Stadium on Monday evening. In the first leg away Bengaluru played a mediocre match letting Northeast Utd get away with a 2-1 lead. Although the last goal was scored off a penalty in added time, Northeast ran riot in the first half with waves of attacks on the Bengaluru citadel. Bengaluru may have the advantage of an away goal, but they have to shut out Northeast Utd forwards completely from finding the back of their net when they visit.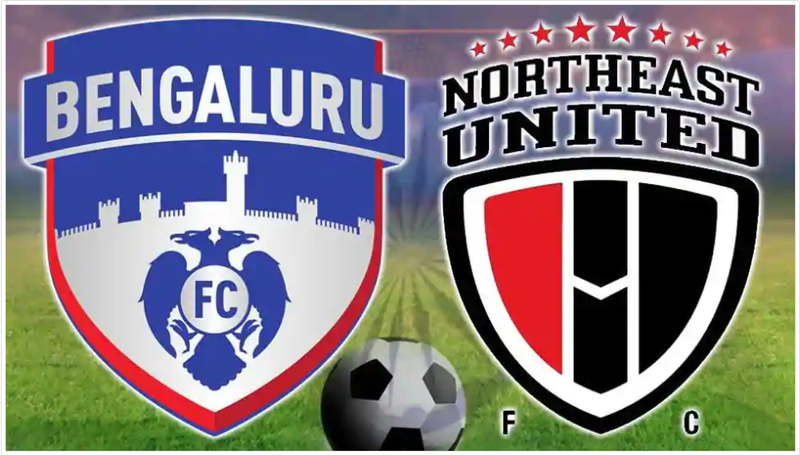 Bengaluru FC
Carles Cuadrat will have to address a lot of issues to address when they play North East in the second leg. His strikers, Miku, Sunil Chhetri and Udanta Singh were kept quiet for most of the game against the Highlanders in the first leg. Bengaluru's left flank also looked vulnerable with Nishu Kumar looking uncomfortable guarding the side of the play. That is the side from which North East scored the first goal. Their new signing Alex Barrera did not impress much in the match either. Bengaluru does not have any injury problems and Cuadrat can choose a team from his full squad. Xisco Hernandez, who scored the equaliser in Guwahati, is expected to start the game in place of Alex Barrera.
North East United FC
Eelco Schattorie meanwhile has problems of his own. After dominating the game in the first half his main striker Bartholomew Ogbeche had to retire injured. As if that wasn't enough Rowlin Borges, another match-winner also had to be substituted in the second half due to a pulled hamstring. In such a situation his best option might be to depend on Mascia as the centre forward helped by Federico Gallego who is their highest goal scorer after Ogbeche and Borges. Lalthathanga Khawlring, with his versatility, can help cover for the absence of Borges. Nikhil Kadam may see himself playing on the left flank.
Head to head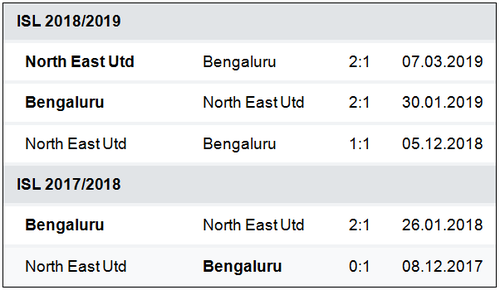 The game played as the first leg of the semifinal of ISL 2018-19 is the only game that North East Utd has won againsBengalururu FC. Bengaluru has won three of the five games played between the two teams and one match ended in a draw.
Current form of the two teams

North East United shows better for in the last six games as compared to Bengaluru FC. They have won two games and drawn three of them while losing one more than two months ago. Bengaluru FC has, on the other hand, lost four of their recent matches while winning one and drawing one. But it would be pertinent to note here that Bengaluru FC has not lost a game at home this season.
Prediction
Bengaluru Fc has to win this game with a two-goal margin to ensure that they play in the finals of the ISL 2018-19. Given that Eelco Schattorie is handicapped with the absence of his two most prolific goal scorers Bengaluru FC might just achieve their target. Also looking at their home record, I would put my money on Bengaluru to win this match.
Score: Bengaluru FC 2-0 Northeast United FC