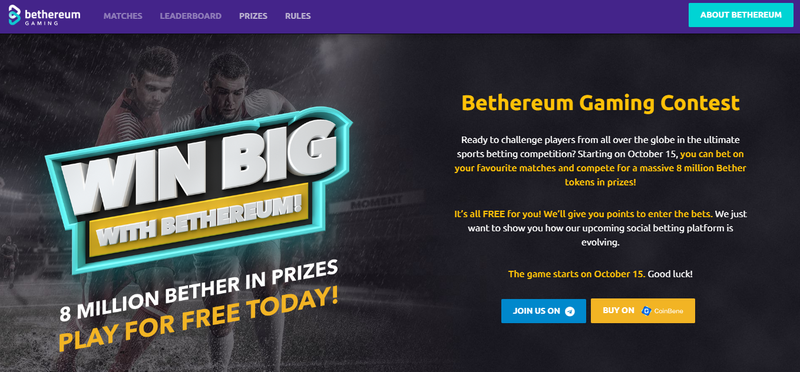 Let's face it, when it comes to betting websites, there are hundreds if not thousands. Even on the blockchain, there has been a recent flood of projects in the betting space. Those that will survive and rise to the top find ways to engage their audience in unique and interesting ways.
The Scorum betting platform, when launched, will have an immediate group of bloggers who write about betting willing to integrate the platform into their routines, which is a tremendous advantage over other standard betting sites. Bethereum, which is one of my favorite blockchain projects and betting platforms (read below, I am biased), has brought tens of thousands of new users to their attractive platform with contests, gamification, and an attractive design all months before the full version of their platform has even been launched. They have also had team members publish here on Scorum and they frequently share sports posts from Scorum on their social media channels.
Today, their newest effort has gone live and it is free and open to all to play. Eight million BETHER tokens (currently sold on CoinBene) are up for grabs as players will choose from a wide range of events to place fake bets on, from the NHL to UEFA Champions League matches. You will be given 3,000 points and can bet from 50 to 1,000 points on each available match. Matches will include NHL, soccer, NBA, and more to choose from.
How to Register (Video)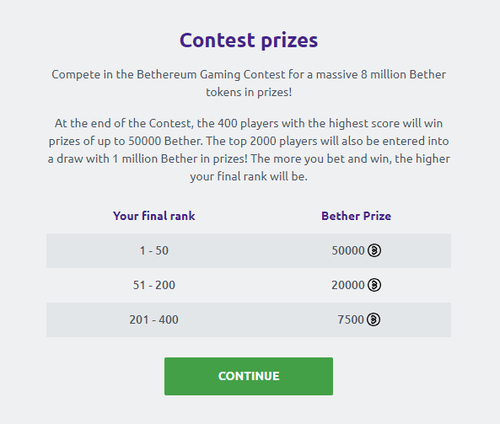 The top 400 will all receive at least 7,500 coins with the top 50 winning 50,000. To put that in perspective, during the ICO, 17,500 BETHER = 1 ETH. The team is also rolling out an incentive program to those who hold BETHER, and ERC 223 token, so even if you don't plan on betting on the future Bethereum platform, you can earn additional coins by hodling.
Want to play? Join here (not a referral link) or simply go to gaming.bethereum.com. If you do want to earn 100 additional points and give me an additional 100 points, use my referral code here (UCQPKXHE)! You can try to beat me @mikey. Based on my results during my betting journey last month, it shouldn't be that hard. Good luck if you decide to play.
---
Disclaimer: After writing an article on Scorum about the project, Bethereum has brought me on their team as a Content Writer. However, this article is not part of that agreement and I am not receiving BETHER tokens for writing this piece. I am just excited about the contest and am interested in getting the Scorum community involved.
If you have questions about the platform or the contest, please ask below.