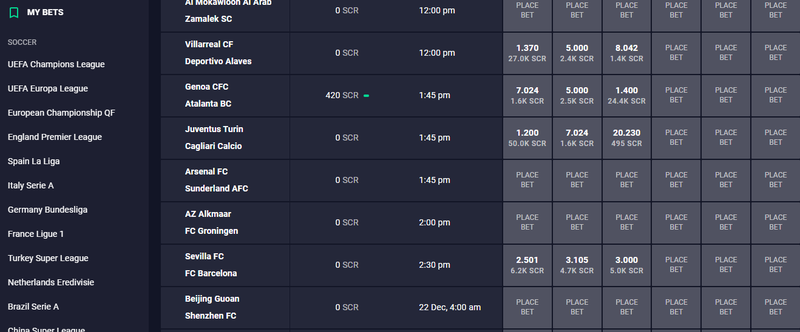 After going 4 out of 5 in the last two days, I feel like I'm pushing my luck a little bit. Still, there's no reason to change anything when it's working.
Here are my picks for December 21, 2022:
Villarreal CF vs. Deportiva Alaves (1.370, 5.000, 8.042)
Picking teams to back is all about finding good opportunities. You do not have to believe a bet will happen to know it's worth the risk. This match is a good example. While Villarreal is the heavy favorite and should win the match, this should be a very close contest. Instead of backing Villarreal at 1.370 (-300), I am taking the draw at +400 (5.00). For the sake of these picks, I'll say 2-2 draw, but in reality, Villarreal is still very likely to come out on top 3-1.
Genoa CFC vs. Atalanta BC (7.024, 5.000, 1.400)
This is a no-brainer. I can't take any result other than an Atalanta victory. Even with the 1.400 odds, I'm still taking Atalanta to win 3-0.
Juventus Turin Cagliari (1.200, 7.000, 20.000)
My advice is to skip wagering on this matchup. There simply isn't enough to win here. My prediction is Juventus 4-1, but with the odds being -500 (1.200), it's not worth the gamble. If you want to have some fun, put 25 SCR on Cagliari to win. Sure, you'll lose, but if they somehow spring the upset you'll be up nearly 500 SCR.
Sevilla FC vs. FC Barcelona (2.500, 3.105, 3.000)
This is the matchup of the day. Sevilla is at home and in the better form here. This could go either of three ways, but with the attractive 2.5 odds (+150), I'm taking the home side and predicting a 2-1 Sevilla victory.
Good luck everyone! Post your predictions below!