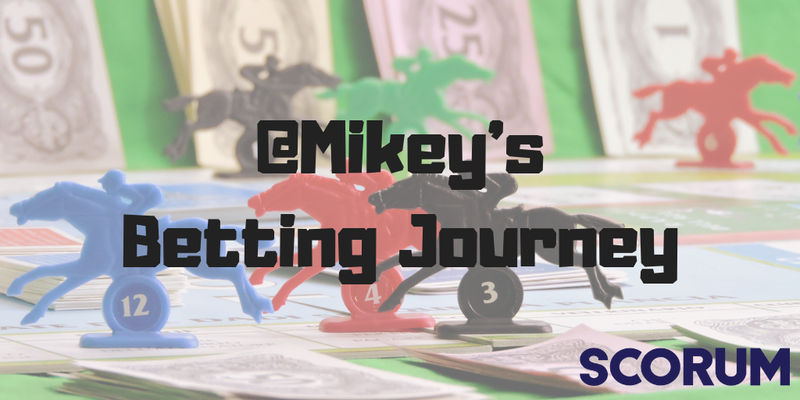 Other than last Sunday's NFL mess, I've had surprisngly successful results. The good times kept rolling last night, and now we have a huge weekend coming up.
Here's a look at where we stand and what I'm betting on today.
Yesterday's Results
Yesterday could not have turned out better as I continued my hot streak. I placed a couple of additional bets before the start of the Thursday night football games including bets on over 1.5 field goals for each team (I hit one and missed the other).
North Carolina vs. Miami Over 55 = Win ($2.40)
Chicago Cubs -1.5 = Win ($2.50)
Rams -6.5 = Win ($1.56)
Vikings over 1.5 field goals at +120 = Win ($2.40)
Rams over 1.5 field goals at -150 = Loss ($2.00)
💰Bets Made Today💰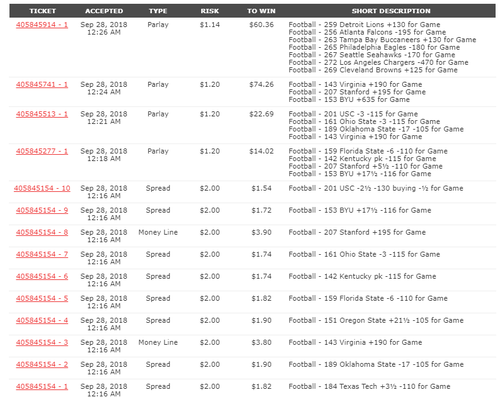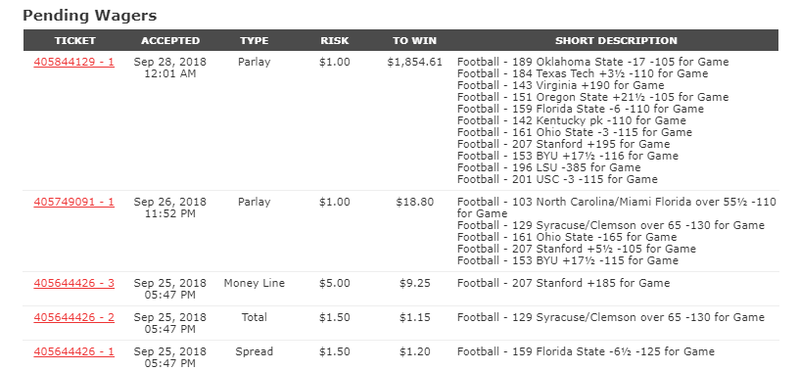 Tune back tomorrow morning to get my full list of bets I have on the line tomorrow (hint: A LOT!). I'll summarize below the picks I've taken that I like the most for tomorrow that I bet on today:
USC -2.5: After a win against an undefeated Washington State team, USC is heating up and much better than their 2-2 record indicates.
Syracuse/Clemson over 65 (-130): One of my favorite bets. Both teams can score at will. This should be a shootout. I do like Syracuse to keep it close, but I'm only going to bet on the over here.
Stanford to upset Notre Dame (+190): Notre Dame makes too many mistakes to beat a team like Stanford. Even on the road, give me Stanford to win.
Ohio State -3.5: I'm taking Ohio State in a lot of bets this weekend. I think they will roll right over Penn State.
BYU +17.5: BYU has surprised us all, and it's starting to beome less of a surprise and more of an expectation. I think Washington is good but overrated, and I like the Cougars to keep this game within 10 points.
Those are my main picks for the weekend, but I'll recap each bet ending on Saturday in tomorrow's post. Have any questions or want to share your own picks? Please do so below.
Bets Ending Tonight
I decided to leave tonight alone in order to focus on Saturday's games. All of my bets have been placed for Saturday. However, I will likely rebet winnings from the early games tomorrow on a couple of games I like, including Stanford to upset Notre Dame and Ohio State to beat Penn State.
Progress 📈
Current Balance: $0.00
Pending Wagers: $49.49
Amount Needed for $1,000: $1,000
Pick % & ROI
Straight Wagers (Not Including Parlays)
MLB (7-1, 83.3% -- Amount Wagered: $26.51, Amount Won: $14.76 ROI: 55.68%)
NFL (4-2, 66% -- Amount Wagered: $10.25, Amount Won: $3.05 ROI: 29.76%)
NCAA (1-0, 100% -- Amount Wagered: $1.75, Amount Won: $1.56 ROI: 89.14%)