Betscorum.com makes betting relatively easy and without fees when betting with SCR coins. While there are plenty of bets waiting to be "matched" on betscorum.com, you may not find the odds you're looking for. You can decide to offer a bet with the odds you want, essentially making your the bookmaker.
Assuming you have an account on Scorum and liquid SCR available, here is how you create a new bet on Scorum, which is also called "creating a market." Watch the video or follow the written steps below.
Decide what match you would like to wager on, and what bet you want to place at what odds.
Example: If wanting to bet on the English Premier League, you could look at the upcoming schedule online, view prediction articles to help you make up your mind, and then search the available odds at other betting sites so you know what the odds are for the match you want to bet on. So if you want to bet on the upcoming Manchester United vs. Cardiff match, you could search in Google "Manchester United Cardiff Odds" to see what the standard odds are for the match.
2. Visit Betscorum.com
Simple enough, right?
3. Click on the league you want to bet on using the navigation bar on the left
League's are listed on the left-side of your screen on betscorum.com.
4. Click on the match you want to bet on in the middle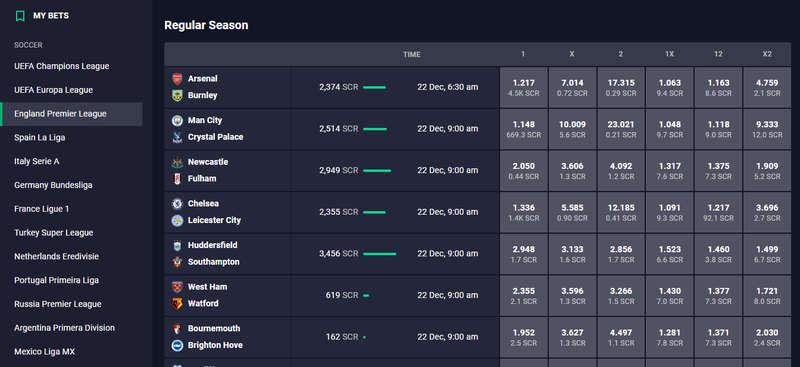 Now that you've clicked on the league you want to bet on, the upcoming matches appear in the middle of the screen. Click on the match you want to bet on.
5. Click "Place New Bet"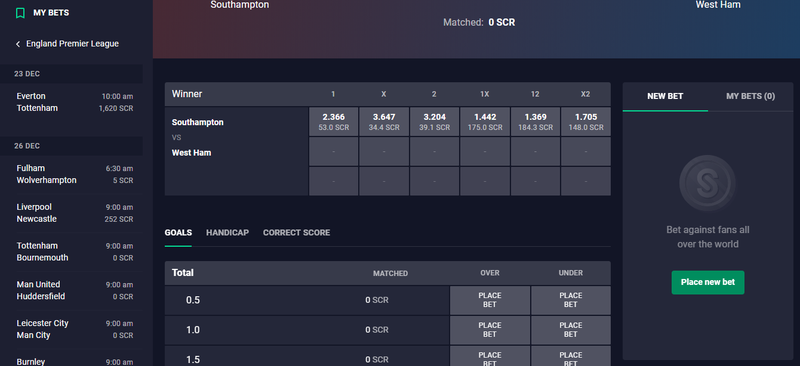 On the right side of your screen, you'll see the button "Place new bet," click it.
6. Choose the "Market"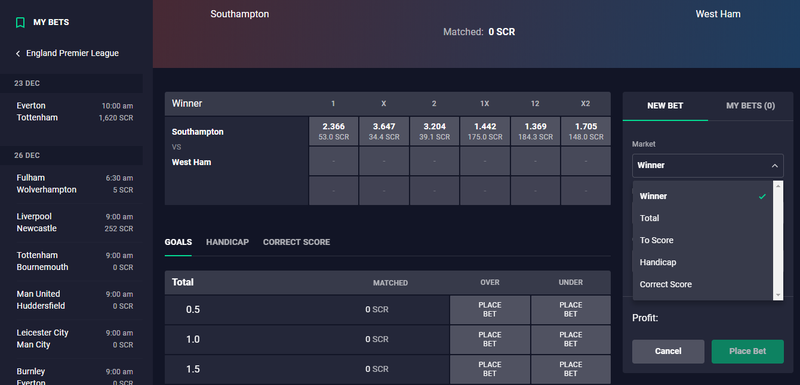 A new section will appear on your screen. The first box is "Market." Here is where you choose the type of bet you want to place. Winner refers to betting on the final outcome, which is what we're choosing in this example. You can also bet on the number of goals, exact score, and more.
7. Select "Result"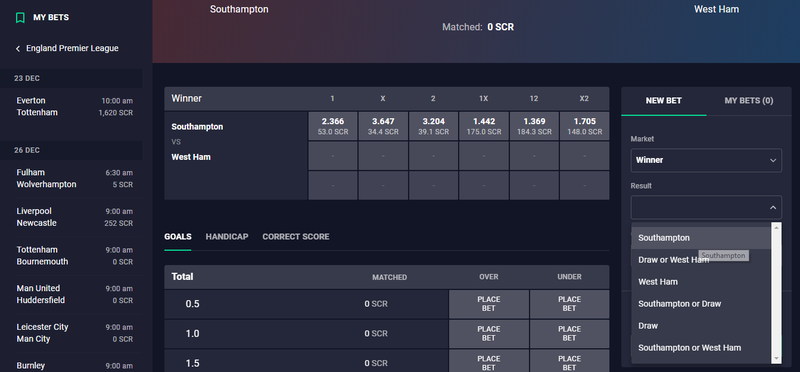 "Result" is where you select what you believe will happen in relation to your bet. Since I'm placing a wager on the "Winner," this is where I can select one of the two teams, a draw, or an 1X, 12, or X2 bet.
8. Enter Odds and Amount of SCR to Wager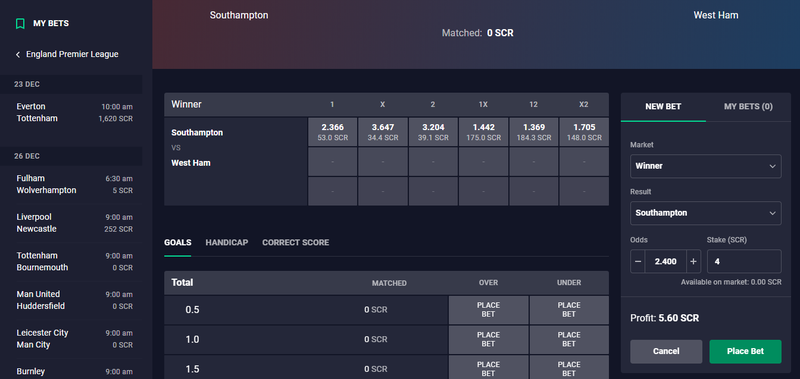 Now you're almost done. Next, enter in your odds and the amount of SCR you would like to bet. You can bet portions of tokens as well (example: 1.25 SCR).
9. Place Bet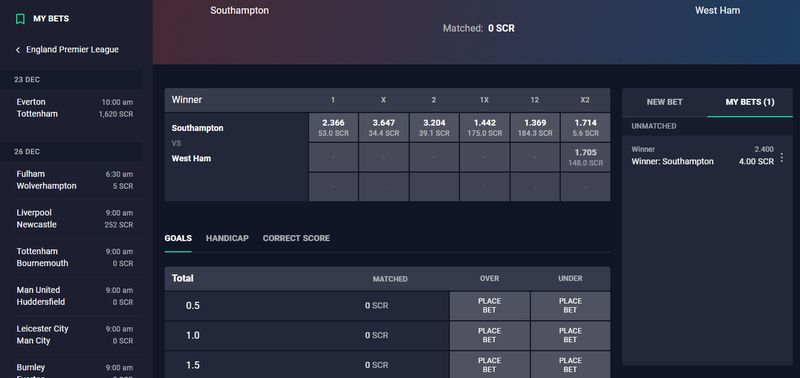 If you're sure you're bet is correct, you can press "place bet." The bet will then show up as an unmatched bet under "My Bets," seen above.
10. Track Your Bet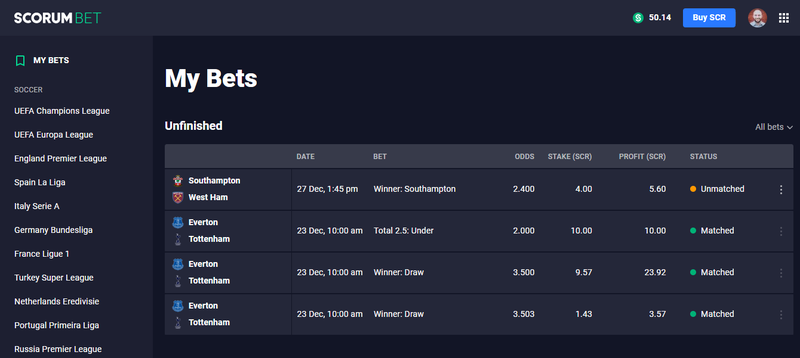 Your bet is unmatched, meaning another user will have to match your bet or the SCR you placed on this wager will be returned to you. You can view your matched and unmatched bets in the "My Bets" section, which you can access at the top left of your screen.
Note: All images are screenshots taken by me on betscorum.com. Visit and place wagers here on betscorum.com.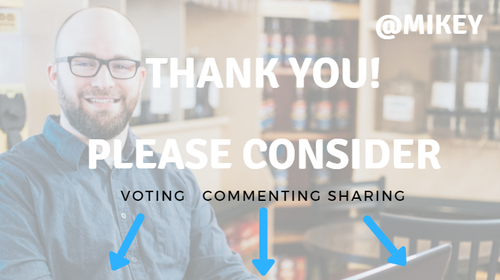 Was this guide helpful? What else would you like to know about in regards to betscorum.com? Please comment below! Thanks to @btb for the idea.
Voted for witnesses yet? Learn about TeamGood here and please feel free to ask questions about our witness. If wanting to vote for witnesses, I use @guiltyparties tool which you can find at guiltyparties.com/scorum.