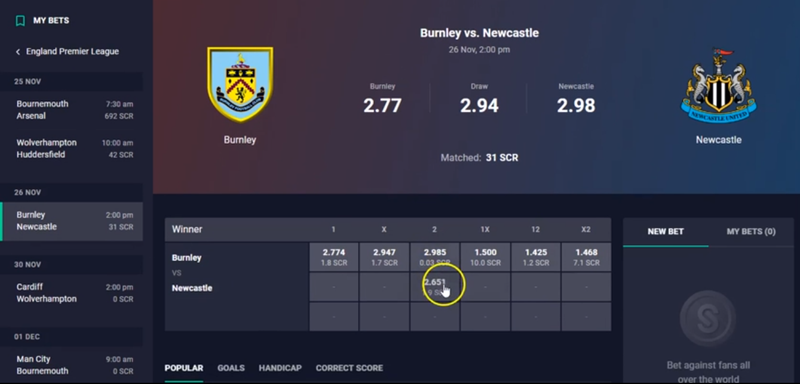 Visit BetScorum.com
If you are new to Scorum, first, create an account at Scorum.com. Then either purchase SCR to bet with, or earn coins by blogging, and then use those coins to bet at BetScorum.com. You must have liquid SCR tokens to bet. You cannot use "Scorum Power."

2. Choose the Sport/League You Want to Bet On
On the left side of the screen, you can view the different sports or leagues that are available to bet on. In the video above, I click on "England Premier League."
3. Choose the Match You Want to Bet On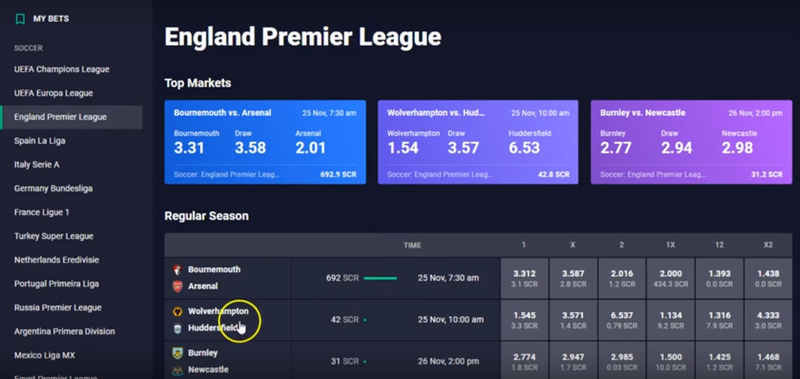 In the middle of the screen, you will now see the available matches in that league to bet on. Choose the match you want to place a bet on. I select Burnley vs. Newcastle.
4. Choose Your Bet and the Best Available Odds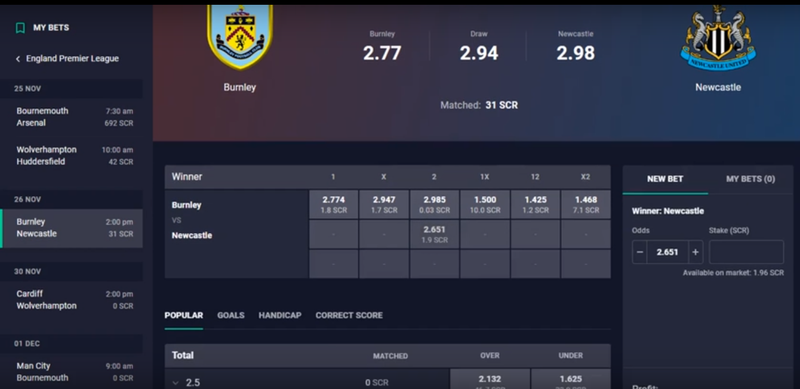 Not that you've clicked on the match you want to bet on, it's time to place your bet. In an upcoming video and article, I'll explain the basics of betting on football (soccer), so I'll assume you have a basic understanding of how betting works.
If you don't, here's a very quick explanation:
The bet options are 1, X, 2, 1X, 12, X2, Over, and Under. Burnley is listed first, meaning they are the team that you are betting on if you select "1". "X" is a draw and "2" is betting on the secon team lisited, which is Newcastle. The bets at the top (for example, there are two options under "2") have the better odds, so always select those first.
5. Choose How Much to Bet and Enter in the Box on the Right
After selecting the bet and odds you want, you need to enter in how much you would like to wager. Using this option, you can only bet up to the maximum that is currently available on the market (as stated below, I will create another video showing you how to start a bet that someone else can fill later). There is 1.96 SCR on the market in the example used in the video, and since I am comfortable wagering that much, I enter in the full 1.96 SCR in the box on the right.
6. If You're Ready, Click Place Bet
A green button will appear on the bottom right of the screen. If you're ready to confirm your bet (which will be final!), click Place Bet.
7. Make Sure the Bet is Confirmed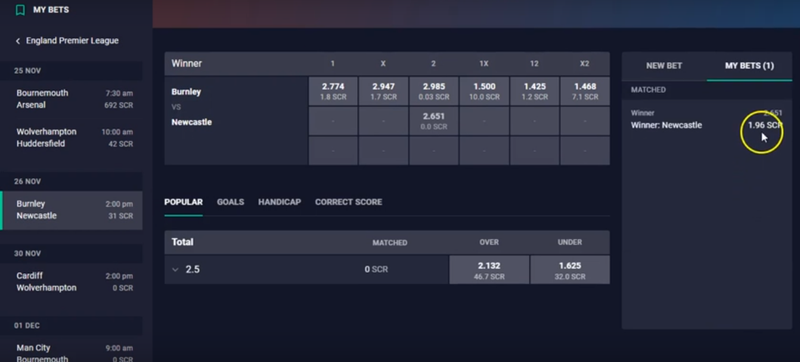 Once the bet is confirmed, you will see the following message showing you how much you bet. The bet will appear "My Bets."
And that's how to place a bet on BetScorum in under a minute. Watch the video above!
Note: This short guide only covers how to place a bet that has been offered by someone else in the community. In future videos and tutorials I will go a little deeper into placing bets and explain how to place your own bet in the market for someone else to match it. In other words, you can set your own ods on BetScorum.com!