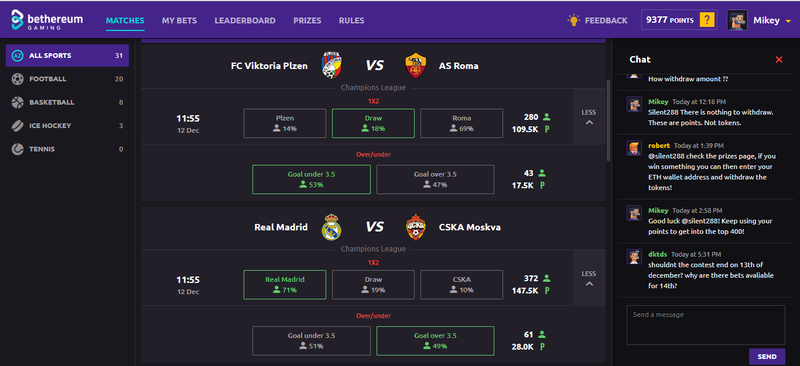 Betting, whether through Scorum Bet or the Bethereum Gaming Contest, has brought me closer to sports that I otherwise would only have a passive interest in. During the final three days of the Bethereum Gaming Contest, the organizers added every Champions League match to the contest, giving me a reason to learn about and predict the matches on December 12 and December 13.
I've done just a little bit of research, and I hope to get feedback from you as well on my picks. If by some minor miracle betscorum.com is back up, I will also place bets on each of these matches.
12/12 Champions League Picks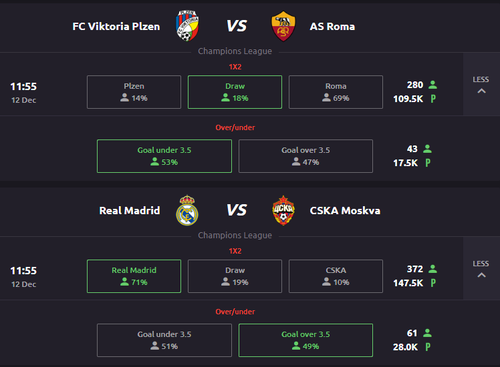 Plzen vs. Roma
Plzen is in an interesting spot where they can end this stage in third in Group G if Real Madrid beats CSKA Moscow and they earn a draw or win. Although Plzen is the heavy underdog, they will play in front of a passionate home crowd. They have a lot to play for. I like Plzen to tie Roma 1-1, so I'm betting on the draw and under 3.5.
Real Madrid vs. CSKA
Madrid are heavy favorites at 1/4. Although they don't have much to play for, when you're hot you're hot. I like Madrid to win and for the score to go over 3.5 goals. While I'm not betting on the exact score, I'll say 4-1 Madrid.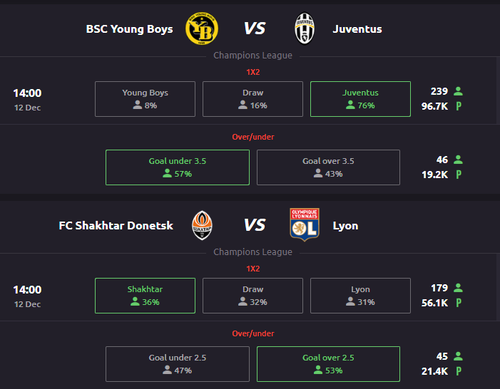 BSC Young Boys vs. Juventus
There's no reason to elaborate too much on this one. Juventus wins easily 2-0. I'm betting on Juve to win and under 3.5 goals.
FC Shakhtar Donetsk vs. Lyon
Shakhtar is in a must-win situation against Lyon, and they're playing at home. It will be a tough game for both sides, but I'm picturing a 2-1 victory for Shakhtar, which is over the 2.5 over/under.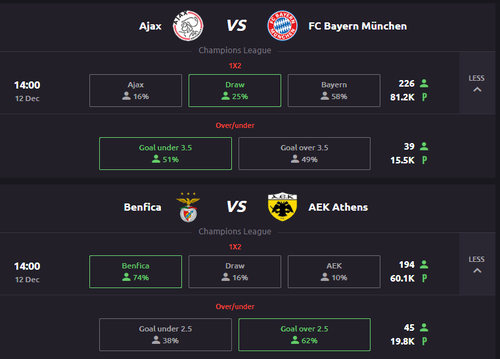 Ajax vs. FC Bayern Munich
When hosting Ajax, Munich could only pull out a draw. On the road, I expect more of the same. It's a very risky wager, but I'm going to go out on a limb and predict a 1-1 tie. Take the draw and under 3.5.
Benfica vs. AEK Athens
In the worst game of the daw, point-less AEK travels to Benfica where both teams have little to play for. I took the over 2.5 when making my pick for the competition, but I no longer believe this was the best decision. I would go with Benfica to win and under 2.5. A 1-0 result looks likely.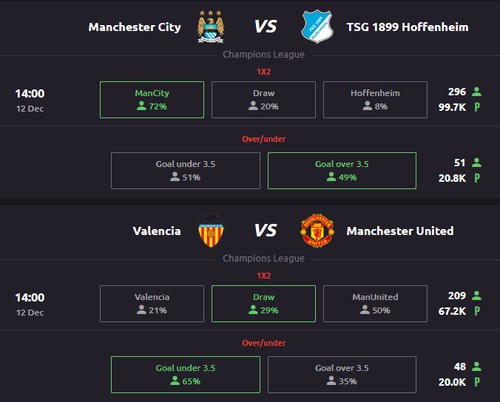 Manchester City vs. TSG 1899 Hoffenheim
Manchester City looks dreadful against Chelsea last Saturday, which was their first loss in 18 matches (Lyon). They will feel like they have something to prove. I'm envisioning a 3-1 victory for City, which will go over 3.5.
Valencia vs. Manchester United

With United coming off of three draws in their previous five matches and Valencia exiting a 1-1 draw against Sevilla, this match just feels like another draw (1-1). Take the tie and under 3.5.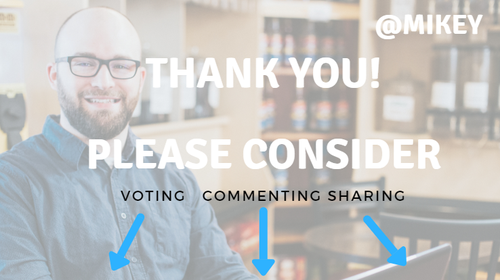 What do you think? Feel free to share your picks below! These are not recommendations, simply my picks. Do your own research before placing any bets.
I also shared my picks on the Bethereum blog, but I created a new unique article to share with you here. Here is the other piece.