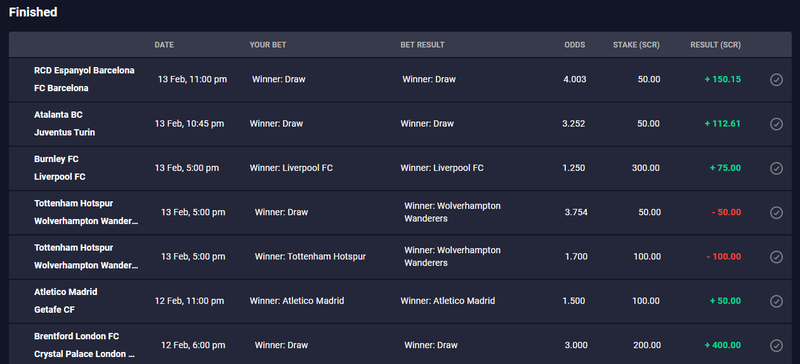 The past weekend turned out to be very fruitful, I would even say crazy in terms of the outcomes of the events I chose.
12th of February
After seeing the match Brentford - Crystal Palace, doubts immediately disappeared - this is an ideal match for a draw, as the opponents are as equal as possible in strength, they go side by side in the standings. The match turned out exactly as I wanted: a lot of play in the center of the field and the most cautious play in defense. Light +400 SCR.
In the evening, I decided for pleasure to bet on a clear victory for Atletico Madrid, but just a little bit, because there were doubts and once I already got burned badly, losing half of my bankroll on this team. Atletico Madrid - Getafe CF bring me 50 SCR.
February 13
A fly in the ointment was added by Tottenham, in whose victory I was not sure and took 1X (a clean win by 100 coins and a draw by 50 coins). The powerlessness of Tottenham deprived me of 150 SCR, though the regular bet on Liverpool came in parallel and compensated for half the loss.
Leafing through the championships, I saw two matches I liked: Espanyol - Barcelona and Atalanta -juventus. Matches are ambiguous and unpredictable, but I decided to take 50 SCR for draw outcomes in two events. I did not watch the matches themselves, but when I saw the reviews, my surprise knew no bounds. In two matches, draws were not only recorded, but decisive goals were scored in the last minutes of the meeting. Fantasy! It seems to be only +260 SCR, but how emotional and joyful they are at the same time.
My past works: National digital currency...

Have a good week everyone!