A good week starts on Tuesday!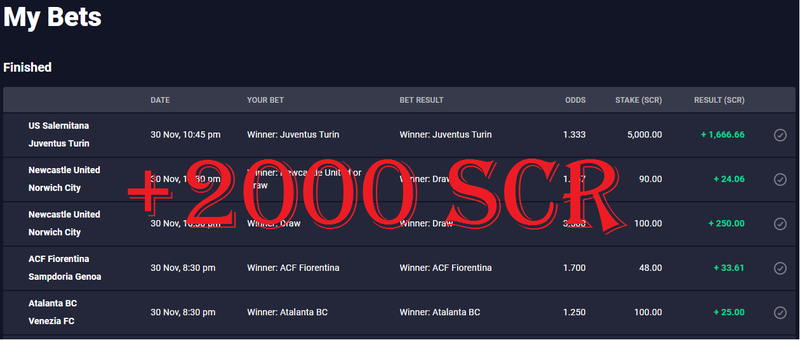 Tuesday is full of great matches Serie A and Premier League, why not pick up some SCR coins. The home games of Fiorentina and Atalanta against such rivals can be considered a gift, but I hesitate to bet a lot, since there should be a misfire in a long series of winning bets and it is better to take it with little blood. We put in 150 SCR warm-ups and take a modest 55)
Next comes the battle of the Premier League outsiders: Newcastle vs. Norwich. My preferences were for the hosts of the match and something told me that it would be 0-0. It's too rash to bet on the account (they played 1-1 after all), so I take a draw for 3.5 for a modest 100 coins and just put 1X in support of Newcastle. Both bets come in.
The culmination of the day: Juventus, offended in the last round, plays against the main outsider of Serie A.
The week started well with winning 5 bets out of 5 and +2000 SCR!
I bet more for fun, so I don't adhere to any betting strategies or rules.
The immediate goal is to finish off to 10,000 SCR and put several single orders for the adrenaline test)
Until the balance is 8148 SCR!