With a stack of exciting games in the Champions League next week, it's time to think about a Borussia Dortmund vs Tottenham prediction and some tasty betting tips to get stuck into.
Within this article, you'll find a recent form guide for Borussia Dortmund and Tottenham, pre-match analysis of squad injuries and strategies, alongside a match prediction and betting tips.
With the benefit of 0% commission and no shady bookmakers skimming from profits, ScorumBet is the perfect betting platform to find the best odds for Liverpool vs Manchester United. Make sure you don't miss out on the best odds boosts around by following Fortuna, an initiative set up to reward new and current Scorum users.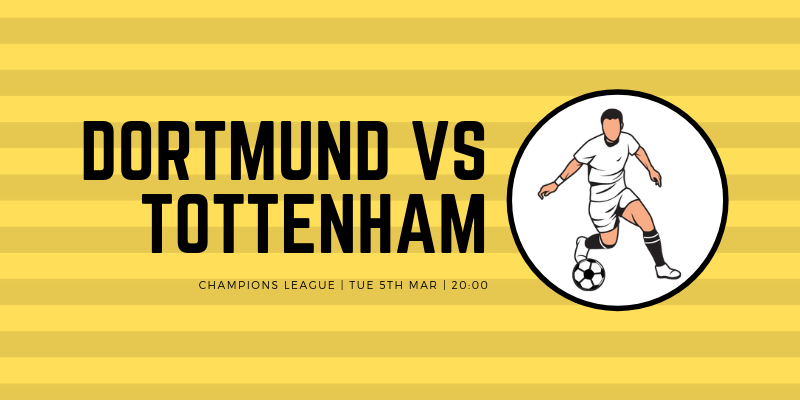 Form Guide
Borussia Dortmund
Dortmund have been in poor form recently and have allowed Bayern Munich back into the title race in the Bundesliga. In 1st place on goal difference alone at this point in the season, Dortmund have recorded just 1 win in their last 5 domestic games, losing 1 and drawing 3. Of course, Dortmund also lost 3-0 to Tottenham in the corresponding fixture in the Champions League back in February.
Tottenham
Tottenham have also been suffering through a rough patch of form over the last couple of weeks. Considered title challengers not so long ago, there is now a worry that they may relinquish their place in 3rd in the Premier League as they are just 3 points clear of Manchester United. In their previous 5 Premier League outings, Tottenham won 2, lost 2, and drew 1.
Head to Head
The two clubs have only met 5 times over the years with every fixture taking place since 2016. Over those fixtures, Tottenham won 3 and Borussia Dortmund won 2.
Pre Match Analysis
Borussia Dortmund
Things were looking great for Dortmund a couple of months ago but a grey cloud has seemingly appeared above the club and it's now looking like it could be a scramble to win anything. A poor run of form has seen Bayern Munich close the gap on them in the Bundesliga and there is a feeling that they could throw away their chance to win the title if they don't snap out of their current issues very quickly. Add to that the fact that they are already 3-0 down on aggregate to Tottenham in this fixture and things are looking rather bleak. Dortmund are a dangerous team but they have a mountain to climb if they're going to make it past this stage of the Champions League.
Strategically, Dortmund have no other choice than to aggressively attack Tottenham in the hunt for at least 3 goals. The difficulty here is that they could easily be caught out by the away goal rule. If Tottenham score just 1 goal then Dortmund would need to score 5 and that seems highly unlikely. Nonetheless, playing passive football here won't be enough to see Dortmund advance so Tottenham should expect a high tempo to the game.
Tottenham
Tottenham's marginal title challenge credentials have been completely wiped out at this stage so this is a perfect opportunity for them to focus on trying to make an impact in the Champions League. With a 3-0 lead, they are very strong favourites to advance to the next stage of the competition but they do need to be cautious that they don't consider it a done deal already. Dortmund are not what they were a few years ago but they are still a very talented team and if they manage to score early then things could get a bit tricky for Tottenham.
Strategically, Tottenham need to try to take the sting out of the game and control possession whenever possible. They shouldn't look to simply sit back and defend but there is no urgency to over-commit players during attacking phases. The last thing this Tottenham team wants is for the game to be too open which could allow Dortmund to make an impact with counter-attacks. If Tottenham manage to score then they are extremely likely to advance so they will be expected to apply some pressure to the Dortmund defensive line.
Prediction
I fully expect Tottenham to advance from this fixture but also believe Dortmund will win on the night. Tottenham are in a strong position so the game plan will be simple enough for them; score 1 and remain compact in defence. Job done.
Prediction: Dortmund win
Score Prediction: Dortmund 2 - 1 Tottenham
Betting Tips
Bet on this fixture now at BetScorum.com - A super fast commission free betting exchange for sports fans!