Football fans around the world are being treated to some great games over the next couple of weeks and Chelsea vs Manchester United in the FA Cup is certainly one that piques interest. A resurgent Manchester United will be looking to continue to make the most of a mainly poor season so far while Chelsea are looking to stop the rot currently taking place at the club.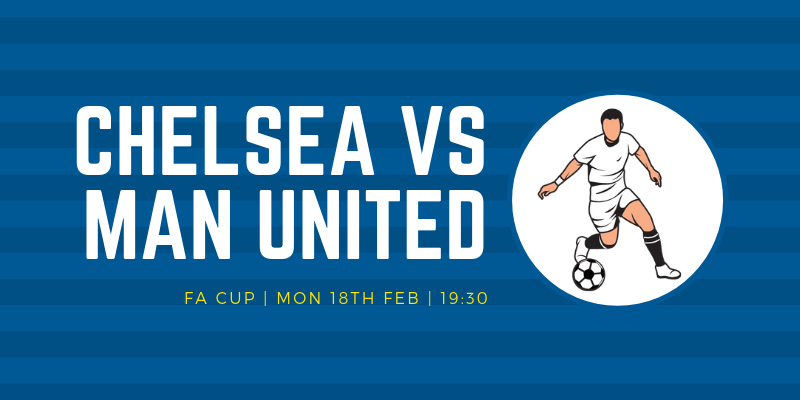 Current Form
Chelsea
Chelsea are struggling at the moment and there are rumours about Sarri potentially being replaced if there isn't an upturn in form in the near future. Domestically, Chelsea slipped from a comfortable 4th place to 6th and with Manchester United currently doing so well in the Premier League, Sarri could be looking at another campaign in the Europa League next season. In their previous 5 league games, Chelsea won 2 and lost 3.
Although the results aren't great, the manner in which Chelsea have been losing is something that will worry the fans. In their previous 3 away games, they have conceded 12 goals and scored 0. Chelsea have, however, won their last couple of home games and this could be a factor in this FA Cup fixture.
Manchester United
Manchester United have been praised highly for their performances, and rightly so since Solskjær took over from Mourinho as manager. There were, however, questions about the level of opposition that Manchester United had faced throughout their great run of form. The club suffered its first defeat under the new regime when PSG comfortably beat them in the Champions League. In the Premier League, however, Manchester United won 4 and drew 1 in their previous 5 games.
Head to Head
In the previous 10 meetings between the clubs, Chelsea won 5, Manchester United won 2, and there were 3 draws. The result of this fixture in the Premier League in October 2018 was a 2-2 draw.

Analysis
Chelsea
With serious pressure mounting upon Sarri and his team in the Premier League, this FA Cup fixture may have come at just the right time. It represents an opportunity for the team to play expressive football in a knockout competition against quality opposition. The fact that this game is being played at Stamford Bridge will is positive for Chelsea, and they'll be looking to show that the Sarri regime is still ongoing and wasn't doomed to failure from the start. Nonetheless, Chelsea will need to be careful here as they have been caught lacking recently when playing against top quality opposition, and the embarrassing 0-6 defeat to Manchester City is not something the club or the supporters will want to see happen again here.
Strategically, Chelsea need to look to assert themselves on the game quickly. Since Solskjær's appointment, Manchester United have become a much more attacking team and they certainly have the quality to cause any opposition problems at the back. However, they remain a questionable entity in midfield and defence, and there is a sense that they could struggle if a good team doesn't allow themselves to be pushed back into defensive lines. If Chelsea can find a way to nullify Pogba then they will immediately reduce Manchester United's creativity going forward. At the other end, chances are likely to fall to Hazard and Higuain, and the duo will have opportunities to win this game for Chelsea if they're clinical.
Manchester United
The change at Manchester United since Mourinho's departure has been impressive, if not surprising, but we are yet to see how this team will respond to a loss. There is no shame in losing to PSG, but there were signs that Manchester United were struggling with the pressure of a top quality team, and this spilt over into frustrations that saw Pogba get sent off. With the majority of football supporters around the world writing Manchester United off as a club with a chance to win anything this season, the FA Cup now represents a chance to put some silverware in the trophy room should they advance from this round.
Strategically, Manchester United just need to play aggressive football from the first whistle. Chelsea completely crumbled under the pressure of the Manchester City attack recently and that led to a huge defeat that will have dented the players' confidence. If Manchester United can push them onto the back foot early on then there will be an opportunity to test if Chelsea have recovered from that humiliation or not. If Solskjær's team can score early in the game then the Chelsea players' heads may drop and it could be a comfortable evening for Manchester United.
Predictions
I feel that Manchester United are vulnerable after their defeat to PSG but Chelsea are in a much worse situation at the moment. If Manchester United play attacking football here then I can see them getting the win.
Prediction: Manchester United win
Score Prediction: Chelsea 1 - 3 Manchester United
Betting Picks
I have backed Manchester United to win at odds of 3.80 as I feel that this represents good value when taking Chelsea's recent struggles into consideration.
I have also taken a small position on the Over 2.5 Goals market at odds of 1.81 considering the number of goals that Chelsea have been conceding recently.