The international break feels like a waste of time for those of us who don't care about patriotism but it does provide an advantage to clubs who have players out injured. Liverpool are a prime example of this with both Gomez and Oxlade-Chamberlain ready to return to action when Liverpool vs Tottenham takes place on 31st March. With that in mind, let's look at a prediction and some betting tips.
Within this article, you'll find a recent form guide for Liverpool and Tottenham, pre-match analysis of squad injuries and strategies, alongside a match prediction and betting tips.
With the benefit of 0% commission and no shady bookmakers skimming from profits, ScorumBet is the perfect betting platform to find the best odds for Liverpool vs Tottenham. Make sure you don't miss out on the best odds boosts around by following Fortuna, an initiative set up to reward new and current Scorum users.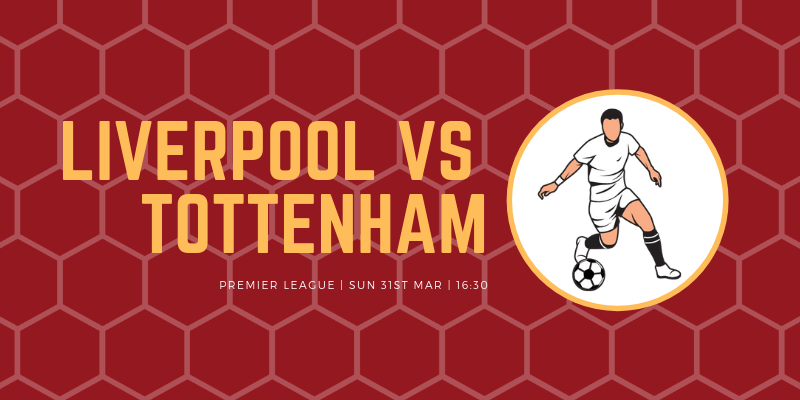 Form Guide
Liverpool
Liverpool appear to have recovered from their recent struggles with too many draws and have put together consecutive wins. They have played one more game than Manchester City but, at the time of writing, have sent themselves back to the top of the Premier League table on 76 points. In their previous 5 games, Liverpool won 3 and drew 2.
Liverpool have impressed statistically throughout the Premier League season so far. They have scored 70 times, an average of 2.19 goals per game. Defensively, they have also been solid having only conceded 18 times, an average of 0.56 goals per game.
Tottenham
Tottenham are currently going through a dreadful run of form in the Premier League and are now 15 points behind leaders Liverpool having been touted as potential title challengers just a few weeks ago. Spurs have failed to record a win in the Premier League since 10th January and over the previous 5 games, won 1, lost 3, and drew 1.
Tottenham have been rather impressive statistically so far this season. They've scored 57 times in the Premier League, an average of 1.90 goals per game. Defensively, they've conceded 32 times, an average of 1.07 goals per game.
Head to Head
In the previous 10 meetings between the clubs, Liverpool won 5, Tottenham won 1, and there were 4 draws. Tottenham have beaten Liverpool just once since 2013 with their most recent win coming from a home game in 2017.

Pre-Match Analysis
Liverpool
Liverpool will be feeling good having gone back to the top of the Premier League before the international break. Although they have played an extra game over Manchester City, the time between fixtures adds more pressure to the shoulders of Guardiola and his team, who will be desperate to win their game in hand. Nevertheless, this is the kind of game that Liverpool have to win if they want to lift the Premier League trophy at the end of the season and it's a case of result over performance at this point in time. The one advantage that Liverpool have here is that Tottenham are in terrible form and, with no chance of wining the league, may have their sights set on what they can do in the Champions League.
Strategically, Liverpool need to put their stamp on this game as the home team. The atmosphere from the crowd should lift the players to an extra level and the Reds certainly have the fire power up front to score a few past this struggling Tottenham team. The main issue for Liverpool is making sure that they don't allow the likes of Kane and Son to have too much time on the ball because they can definitely cause the Reds problems at the back. Although Oxlade-Chamberlain and Gomez are likely to be fit for this game, it seems unlikely that Klopp will throw them into the game so Matip is likely to retain his place alongside van Dijk, while Fabinho will play an important role as a defensive midfielder. If Liverpool can find some control over the midfield battle then they have a great chance of getting the result they want here and, with Mane in form, you'd expect the Reds to find opportunities to score throughout the 90 minutes.
Tottenham
Tottenham have had a great season but have come up short in recent weeks in the Premier League. No longer considered title candidates, the pressure is off Pochettino and his team here but that could also spell disaster if they have one eye on the Champions League games against Manchester City already. Of course, Tottenham will want to make sure that they get back to winning ways as soon as possible because they'd be mortified not to finish in 3rd place in the Premier League after such a strong season.
Strategically, Tottenham will need to win the midfield battle to stand a chance against this Liverpool side at the moment. If they allow Liverpool to dominate the possession statistics then they could find themselves on the back foot for large sections of the game and, with the attacking players that Liverpool have at their disposal, this could be bad news for Pochettino and his team. Nevertheless, Tottenham have the quality to hurt any team, as they showed against Borussia Dortmund in the Champions League, and there may be opportunities to spring counter-attacks if they can overturn possession. This could mean that Tottenham look to adopt a high pressing game that would allow Kane or Son to take advantage of mistakes or counter-attacks with Liverpool's fullbacks pushed high up the pitch.
Prediction
Tottenham are a danger to any team but I believe they will now be more focused on the Champions League than they would have been if their recent form had kept them within touching distance of Liverpool and Manchester City. With home advantage on their side and a desperation to keep putting pressure on Manchester City, I think Liverpool will have enough to get the job done here. However, any form of complacency could reverse this prediction.
Prediction: Liverpool win
Betting Tips
Liverpool to win
Liverpool to win or draw
Over 2.5 goals
Bet on this fixture now at BetScorum.com - A super fast commission free betting exchange for sports fans!