With Liverpool returning to fine form to once again take 1st spot in the Premier League table, the pressure is now on Manchester City to win in this next round of fixtures as they take on Chelsea at the Etihad.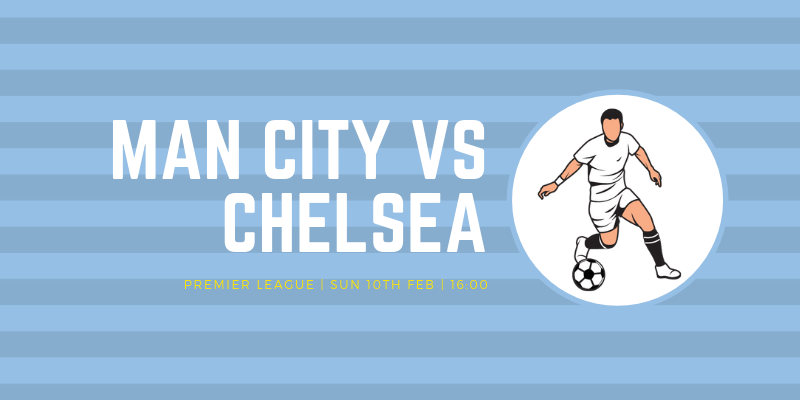 Current Form
Manchester City
Despite a few blips along the way, Manchester City are in relatively good form over the last few games. They currently sit in 2nd place in the Premier League table on 62 points, 3 points behind leaders Liverpool. In their previous 5 games, Manchester City won 4 and lost 1.
Statistically, Manchester City are one of the best teams around over the course of the season so far. They've scored 68 times, an average of 2.62 goals per game. Defensively, they've also been solid having only conceded 20 times, an average of 0.77 goals per game.
Chelsea
Chelsea's form has been hit and miss recently and they're now in a battle to finish in the top 4 at the end of the season. They currently find themselves in 5th place in the league table on 50 points, 1 point behind Manchester United who have played an extra game. In their previous 5 games, Chelsea won 2, lost 2, and drew 1.
Statistically, Chelsea's stats are quite impressive so far this season. They've scored 45 times, an average of 1.80 goals per game. Defensively, they've also been pretty good having conceded 23 times, an average of 0.92 goals per game.
Head to Head
In the previous 10 meetings between the clubs, Manchester City won 5, Chelsea won 4, and there was 1 draw. It's fair to say that there is no dominant team in this fixture recently, but Chelsea did win the corresponding game earlier this season.

Analysis
Manchester City
Now that Liverpool have retaken their place at the top of the table, the pressure is placed back upon Guardiola's shoulders to keep Manchester City's run of good form going. With so many important games coming up, complacency is something that Manchester City cannot afford to creep into the team and this is certainly the case against talented teams like Chelsea. Although Manchester City beat Everton in the previous round of fixtures, there was some evidence of lethargy within the team and it will be interesting to see whether Guardiola's players have managed to shake that off before this game.
Strategically, Manchester City will be looking to do what they always do insomuch that they will try to dominate possession in order to put the opposition on the back foot and then send wave upon wave of dangerous attacks until the defence can no longer keep them at bay. Chelsea are a much more dangerous proposition than Everton, however, and Guardiola's team will need to be careful that they're not caught out by a counter-attack with the likes of Hazard looking to punish them at the other end of the pitch.
Chelsea
Chelsea suffered a couple of embarrassing defeats recently but responded with an impressive 5-0 victory over Huddersfield in the previous round of fixtures. Although much weaker opposition than Manchester City, this will have given the Chelsea players a much-needed lift. Add to the pot the fact that Chelsea are now in a serious battle to qualify for the Champions League next season then this becomes a much bigger fixture than it would have been a few months ago.
Strategically, Chelsea are unlikely to want to sit back and defend against Manchester City attacks for the full 90 minutes. With the talent they have in their squad, Sarri's team should look to pressure Manchester City in the midfield and then get the ball out to Hazard as quickly as possible. They certainly have the ability to cause Guardiola's team some issues but the final result is likely to depend on how solid they can be at the back. Manchester City's attack is one of the best around but frustration could set in if they aren't able to put themselves in front in the early stages of the game.
Predictions
This is the kind of game that could swing either way but with both teams fighting for something important, I am expecting them to really go for it on Sunday afternoon. Manchester City have a lot of important games coming up over the next few weeks and having seen the performance against Everton as somewhat lethargic, I wouldn't be surprised to see Chelsea get a positive result here.
Prediction: Draw
Score Prediction: Manchester City 2 - 2 Chelsea
Betting Picks

I have opted to back the Chelsea to win market along with the Chelsea to win or draw market simply because the odds were too tempting for me to pass on. I have also taken a small position on the over 2.5 goals market.
Bet on this fixture now at BetScorum.com - A super fast commission free betting exchange for sports fans!