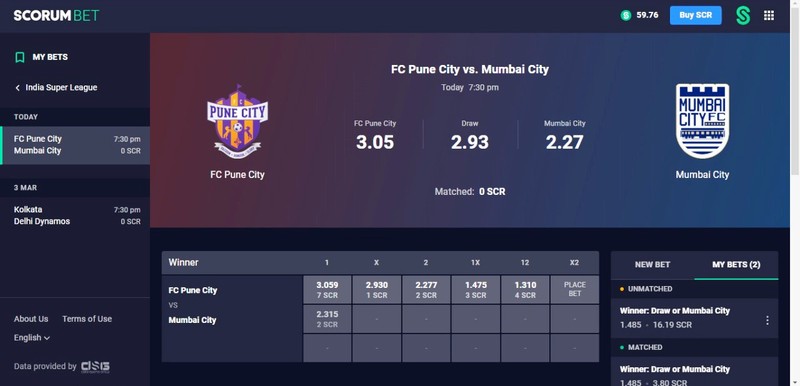 Hello Scorum Friends,
Today I will do a prediction on FC Mumbai vs Pune city which is most interesting match as both team playing their last match of league round of indian football league. Match will be played at Balewadi stadium of pune, Maharashtra. It will be played at 7.30 pm at indian standard time.However, pune city will get home crowd support as match is playing at their home. It is not important match for FC mumbai as they are already qualify for playoffs. I am not a professional in the field of betting, but my analysis are going right and prediction is also helps everyone. so, i will give analysis of head to head matches, team news, player injury and so you all have a good analysis with my blog and it will helpful to win the match.
FC mumbai
As mumbai FC coach announced that there is no matter if they lose or win because if they win they will reach at 4th position. so, there is no any pressure for FC mumbai to win the match but they will play with full Confidence to win the match as after this match there will be knock out match and so before leaving final match they should have Confidence before the playoffs start. FC mumbai key players are suspended from the team and so they will play with out them. Apart from this they rank court in the indian football league point table and they are already eligible in the playoffs.

Pune City
Pune city is playing their final game at their home croud. Pune city had lost their last game against mumbai with 2-0 and aiming to reverse it with defeating them at their home ground. Apart from this they are at 7th position and so they already out of tournament and so they planned to defeat at pune. Key player Marcelinho and Martin Diaz are both out of the match and so Its difficult to win the match. They have to take revenge of their previous defeat against mumbai and so they will play without Confidence also.

Head to Head
Till now both team meet each other 9 times out of this 9 matches pune win in the 5 matches and in 3 matches they suffered a defeat against FC mumbai. In the last match when they face each other at that time mumbai fc win the match with 2-0.overall, pune won in 5 matches whereas mumbai win in just 3 matches.
My Prediction
According to my overall analysis i will bet on mumbai FC or draw because in this season mumbai FC has beat them with 2-0 in their last match. More over, mumbai are at 4th position and pune city are at 7th position from this my beating will be on Mumbai FC and draw. But, Today match is risky because mumbai qualify for play off and they will make a change in their team.
SCORE PREDICTION:-
Winner team = FC Mumbai or draw
Odds- @1.485
Stake (SCR): = 20
Betting website:- www.betscorum.com
Hope you enjoyed my blog and please comment your opinion in the comment section. Regards......