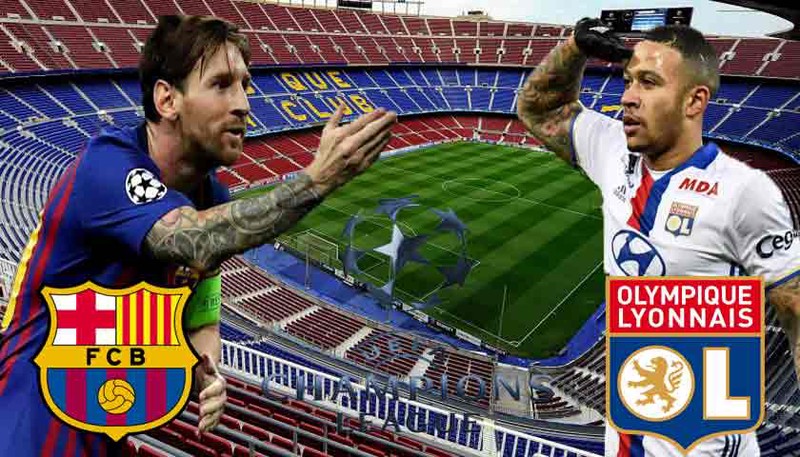 Hello Friends,
All you were waiting for my post for the last three days but I was having family work soi was not able to post a blog on scorum. But, now I will write daily one post on prediction. Today I will write a blog and do analysis on UEFA champions league match which will be played between Barcelona and Olympique Lyon at Camp Nou stadium. The match is on 14th March at 1.30 am of Indian standard time. so, in today match I will do analysis on the head to head record, match preview, player news, which team will win and also a current form of both the team. So, with this analysis, you can bet on this match and win a good amount. Moreover, my prediction is going right and you all are aware of it.
Olympique Lyon
Lyon had been remaining unbeaten in this UEFA season and also in the last Six matches, the result was drawn in all last Six matches they played. Consecutive Six match draw is also one record but in last Six matches they only able to get just 6 points. They are playing their match against Barcelona at their crowds. They remain unbeaten in the last seven matches. In the first leg, they were having upper hand and also there is no any injury problem in their team. Captain Marcelo will be unavailable due to a Leg injury in his previous match of the season.
Barcelona
Barcelona had a great record in the home ground and also they have key players Lionel Messi and Saurez in their team and they are aiming to place their team in the quarter-final of UEFA champions league. Ousame Dembele is doubtful to play the match because he was injured in his previous match on Saturday. Barcelona is inviting Lyon team at their home and so they are having the advantage to win the match and make a place in the quarter-final.

Head to Head Record
In this season they face each other and the result comes to draw and apart from this Barcelona hit 25 shots towards goal post but every shot goalkeeper had saved and made a match draw. seven times both teams face each other in the UEFA champions, out of that in four matches Barcelona win and in three matches they draw the match. Moreover, Lyon cants able to win a single match before against Barcelona. great performance in the first leg by Lionel Messi and Luis Suarez in the UEFA champions league.

Current form
Since goalless in the first leg against Lyons, Barcelona comes back with thee successive wins in Laliga. They suffered a loss against Girona and again after that match they win against Rayo Vallecano. The team is having a key name in their team and they having the Confidence to qualify for the quarter-final.
Lyons is currently a strong team as they defeat the top team of the UEFA champions league. Moreover, In the last three matches they played in this season, in two matches the result was on their side but in one match result was the draw.
My Prediction
According to my overall analysis, I am going to bet on the draw because it clearly is seen that in the first leg of UEFA champions league when they face each other the result was also drawn. Apart from this Barcelona had key players in their team who are capable to score a goal at any minute of a match but some players are unavailable to play the match due to injury so Its risky to predict on Barcelona to win the match. Barcelona current form is average in the same way Lyons are also having their current form excellent and so most probably the match results go with the draw.

PREDICTION:- Draw
Score Prediction:- Barcelona 1-1 Olympique Lyon
Odds:-
Draw @7.521 = 10 SCR
Total 3.5: Under @ 1.724 = 5 SCR
Any other draw @ 251.000 = 2 SCR
Total SCR Stake = 10+5+2 = 17 SCR
Betting website:- www.betscorum.com
Thank you, everyone, for visiting my blog and giving me your valuable time. I really love to see your comment in the comment section about the match.
Regards
Note: This is only my opinion, make of it what you wish. what does this mean? It means it's neither advice nor recommended to bet.