Yeaaap! I'm back. The results for my last prediction are ready and I'll be sharing it with you guys. Two days ago I gave free tips here for punters to make do with either by selecting from my tips, tweaking it or playing exactly what I gave. This is something I just decided to start doing from time to time..you can call it my gift to the punter community here on Scorum LOL.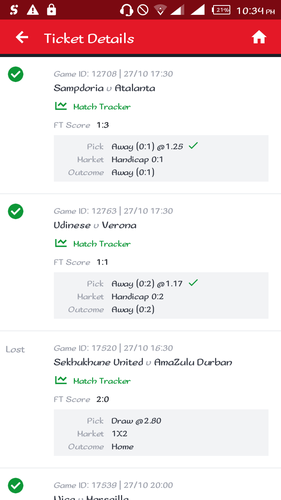 I dropped five events to select from, out of which two predictions were draws, the rest being handicap games. Well I'll say congrats to those who played all the handicap games because all my handicap predictions were right and they "greened" 👌. This goes to confirm what I earlier said about my handicap predictions.. I have a good win rate with them. 💪😁
Of the two draws I predicted, just one "greened" and the other didn't come through as the match ended with a win to the home team. Well I'm not a pro when it comes to predicting draws yet but I know with time I'll get better and keep wrecking the bookies 💰😎. Another mistake was playing the two draws in a single ticket. Next time I'll split the ticket and play the draws on separate tickets..💡..
Hit the follow button and upvote this post to never miss my tips
A splendid evening to you all💝