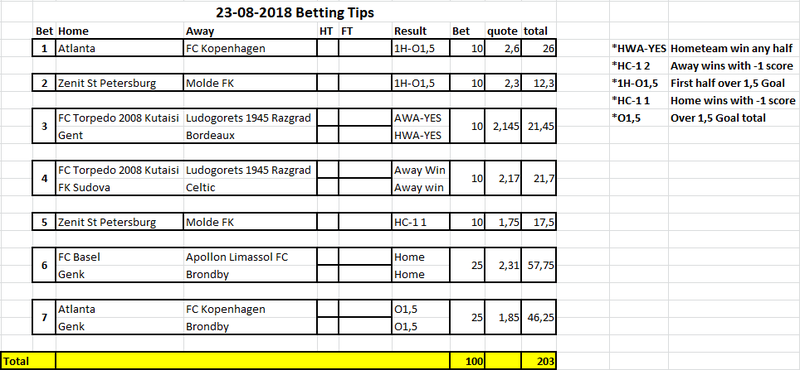 Bet 1:
The last games Atlanta scores a lot of goals!! FC kopenhagen is a team that scores also a lot of goals.. i think this bet should be a win tonight!
Bet 2:
Zenit won his last europa league game with 8-1.. a lot of attacking power.. i'll think its possible this game have 2 goals in the first half!!
Bet 3:
Ludogorets is a good team.. i'll think they are winnning with 1 goal tonight.. 1 half is enough!! Gent vs Bordeaux is a tough game to predict.. i'll think Gent having the home advantage. I'll hope they are winning 1 half tonight!
Bet 4:
Ludogorets and Celtic are winning tonight.. easy bet!!
Bet 5:
Zenit is in great form.. i'll think Zenit wins with 2 or 3 goals difference.
Bet 6:
Genk have a better team then brondby.. with home advantage i'll think Genk wins easily tonight! FC Basel also a nice team.. normaly they are playing CL.. i'll think also a easy win!
Bet 7:
Scoring power Atlanta.. Genk VS Brondy.. Over 1,5...it's a nice gambling Bet :-)
The Big Question is.. who will joins me into this ship?