Here is the bet that I am taking for this week in EPL.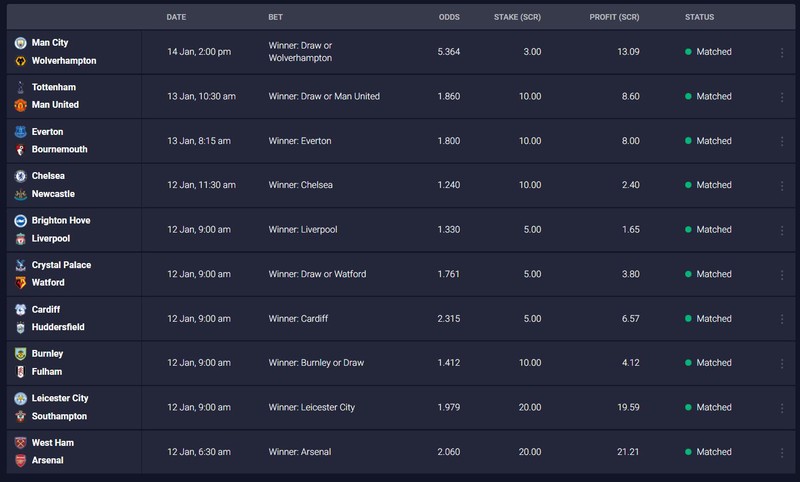 I staked 45 SCR in 8 different matches. I am glad that I won 6 of them. I won 34.21 SCR in total from the investment of 45 SCR. That is ROI of 76.0%.

Every week can't be the same. But I hope it continues. I have staked 98 SCR for this week of EPL betting. I will go shortly from the bottom.
Aresenal is going to be too good against West Ham and would win this game. ManUtd have almost found them, and they need to keep the gap and win this sort of game. Leicester should easily win against Southampton at relegation, another good odds here. Burnley and Fulham is going to be competitive too. Both team are not good, but to pick the better team, it is Burnley. They should atleast win or draw agianst Fulham.
Again, to pick the winner between to bad teams, I am going with Cardiff against Huddersfield. Crystal Palace have done good recently. But I am not convinced entirely. I am going with Watford or draw here. Liverpool and Chelsea, although odds is very low, but they are guaranteed winner.
Bournemouth had been in the worse form, and there is no sign of improvements. Everton should win at home against them. ManUtd had been in great form after winning 5. They would look to win this one too, but at Wembley, it is difficult. I think, United will atleast get something from Wembley after their trip from Dubai.
You can participate my contest here and win 20 SCR and $10 upvote for this match:
Finally, ManCity will win this but odds are again low. I am taking small risk and putting 3 scr for Wolves who last time played draw against City.
P.S.: This is just my point of view on the above matches, not any betting tips.
Good Luck to you all. WIN BIG.