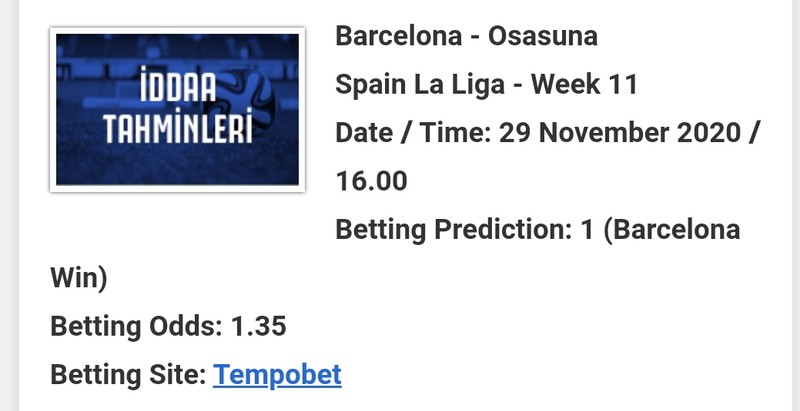 Despite starting the season as one of the strongest candidates for the championship in Spain's La Liga, Barcelona team, which could not achieve what they wanted in the last 10 weeks, will face Osasuna in the 11th week of the league.
The Catalans, who are shown closer to victory by the odds against Osasuna, which they will face at their home Nou Camp, will try to climb to the top of the league table by winning this match and other missing matches.
Each team will sweat for victory in the fight that will start at 16:00 on Sunday, November 29 .
Barcelona Form Status
The fact that the players accompanying this star player in the Barcelona team, which is moving away from its old power with the increasing age of Messi , prevents Barcelona from exhibiting the football that is expected of them as a team.
After Suarez, who got along very well with Messi in the goal areas, the Barcelona team, which valued the young player Ansu Fati in this region, was getting efficiency from this player, but Dembele, who was transferred with great hopes, cannot show the same success.
Catalans, who have lost a lot of points since the beginning of the season, have been in the lower ranks than ever in recent years, although they lack 2 matches.
Pique, Roberto, Fati and Araujo, who are injured in the burgundy blue team, who will win both Osasuna and other missing matches and try to find themselves in the top ranks, are among the names that cannot play.
Osasuna Form Status
Despite being an experienced team, the Osasuna team , which failed to create a good squad before the new season, could not achieve success in the last 10 weeks.
Osasuna team, which had a lot of injured players, played 9 games in the past weeks and left these battles with 3 wins, 2 draws and 4 losses.
The Osasuna team, whose opponents have the same points as Barcelona, ​​is trying to play indoor football because of its limited team and try to turn the small number of counter attacks into goals and win.
Osasuna, who defeated Barcelona 2-0 in the match they played in this field last season, will try to perform a miracle in the fight that will be very different from the squad he had last season.
Barcelona - Osasuna, Forecast & Conclusion - 29.11.2020
Although both teams have the same points in the league table, Barcelona, ​​which looks far superior to Osasuna when we compare the football and the quality of their squad on paper, will try to end the bad progress and take revenge for the last defeat against Osasuna by winning in its own field.
Barcelona, ​​which needs 3 points in its own field, is waiting for it to win even though it has difficulties and I recommend you to win Barcelona.