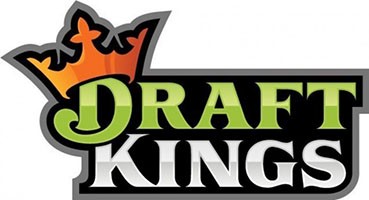 As stated in my introduction post, I'm new to Fantasy Football (and sports betting/gambling in general.) This is my third year playing a casual Fantasy Football league with friends, however, I've decided to give DraftKings a go.
Starting with this post, I'm going to be going as far as I can this season with DraftKings, starting with $20. Sharing my thoughts and what I'm learning along the way.
By the way, this series was inspired by something @mikey is doing, check out his post - From $0 to $1,000: My Betting Journey!
What I've Done So Far (Recap Weeks 1-2)
I've messed around with DraftKings the first two weeks of Football. Spending ~$10 with mediocre wins, I was trying to figure out which contests to enter (there are so many!) This recap doesn't really contain my thoughts on the picks (mostly because I'm new and I don't have a lot of valuable information to share,) but as I continue to play, I hope these posts become more informative.
WEEK 1
The NFL $50K QUARTER JUKEBOX ($0.25 Entry) - 09/09/18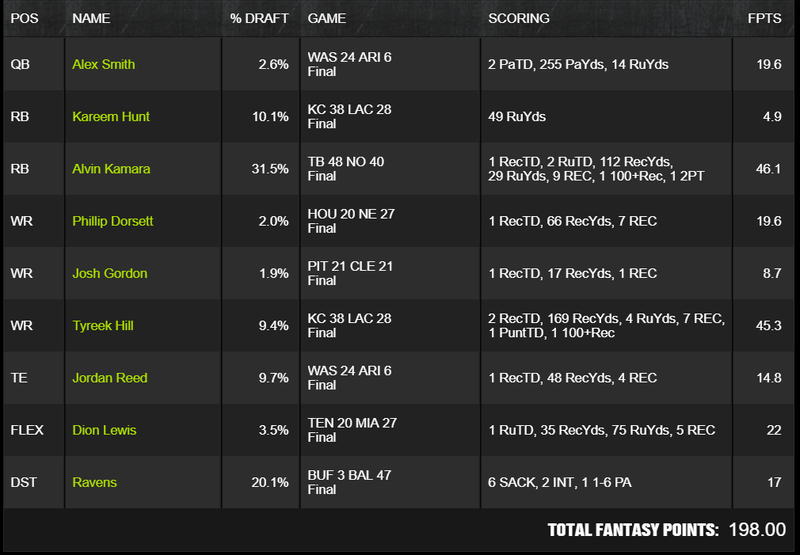 This tournament seemed to be the cheapest to enter, at 25 cents (20 entry max,) so I filled up my $5 worth and ended up winning less than $2 when it was all said and done.
The $250K FIRST DOWN [20 ENTRY MAX] - 09/09/18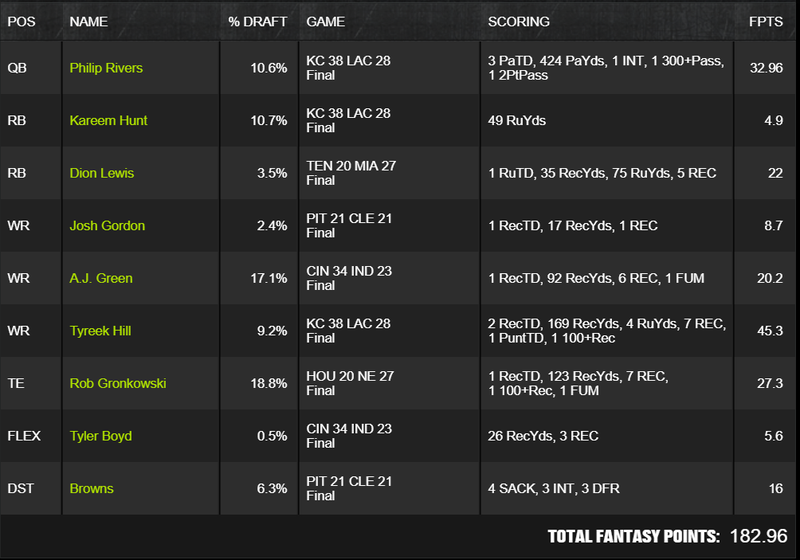 This tournament has a $1 entry, so I only entered three times. Only one of my lineups won at $2.
WEEK 2

Last week, I decided to switch things up. I thought I might have a better chance playing head to head, beating one person, than trying to rank high in a multi-entry tournament. This is where I focused my efforts this week.
BEGINNER NFL $7.5K PLAY-ACTION 09/16/18

However, I also noticed that I had a free ticket to enter a $3 PLAY-ACTION tournament - and so I did.
To my surprise, the free-ticket (normally $3 entry) paid off and I won $7!
HEAD TO HEAD - 09/16/18

I entered two HEAD TO HEAD games (one entry at $1 & the other at $3,) and won both! (Maybe my theory of it being easier to win against only one person was paying off.)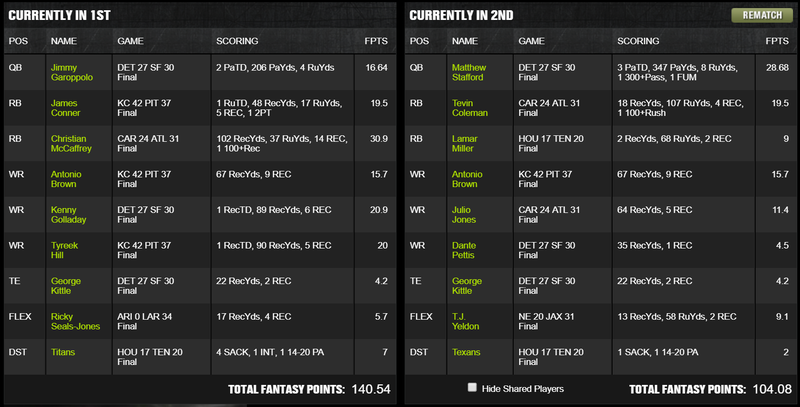 The $3 entry yielded a total of $5.40. Not huge money, but maybe over the season I can grow my $20 with these H2H games.
My Plans for Week 3
At this point in time, I think the Head to Head game-play style suits my lack of Fantasy knowledge. However, I'm not discounting tournaments entirely!
I'm only choosing to spend $15 of my $20 budget this week, and here's how it's allocated:
12x NFL $1 Head to Head Games (Total = $12)

4x NFL $50K QUARTER JUKEBOX (Total = $1)
1x Beginner NFL $3K FIRST DOWN (Total = $1)

1x NFL $10K FIRST DOWN [20 ENTRY MAX] (Total $1)
1x NFL $1.7M PLAY-ACTION [$100K TO 1ST] (Free Ticket)
I'll let you know, probably on Monday, how I do!
Do You Play DraftKings? Have Any Advice?
Let me know if you're a DraftKings Fantasy player and if you have any comments or suggestions regarding my journey - or this post. Thanks!