I'm brand new to sports betting, as stated in my introduction post, and I figure that (in addition to reading about and researching the topic) participating in small stakes wagers is a good way to learn. This was the point for starting my $20 DraftKings Journey series here on Scorum. However, I just realized that I received a free $25 credit for FanDuel a few weeks ago. That can only mean additional content for this blog!
My Goal
My goal is simple. I'm new, have little knowledge and experience, and I want to see if I can double my credits (hopefully I'm not so hopeless that I'm better off putting $25 on Black at a Roulette table.)
Right now I'm reading books by Wayne Allyn Root and I'll talk about how I apply what I'm learning to my decision making process with FanDuel.
NFL Week 3 Results
I entered three different types of contests this week: the $4K Sun NFL Small Dive (I entered once,) the 100-Player Contest ($2 - Top 12 Win) which I entered 4 times, and the NFL Head-to-head (which I entered 16 times.) I tried to stick to contests that had both a low entry fee and a small number of competitors.
Below are my Top 2 Wins.
$4K Sun NFL Small Dive, the 100-Player Contest ($2 - Top 12 Win)
Entry Fee: $2
Results: Placed 11/100 for a Winnings of $6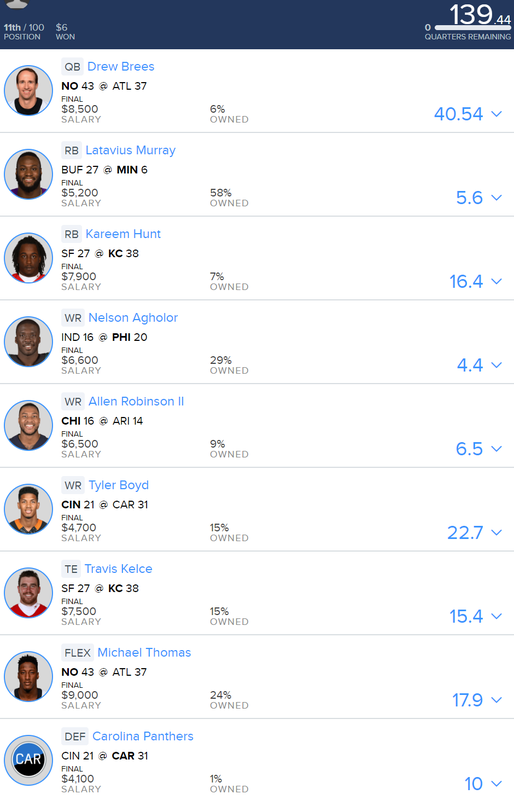 NFL Head-to-head
Entry Fee: $1
Results: Placed 1/2 for a Winnings of $1.80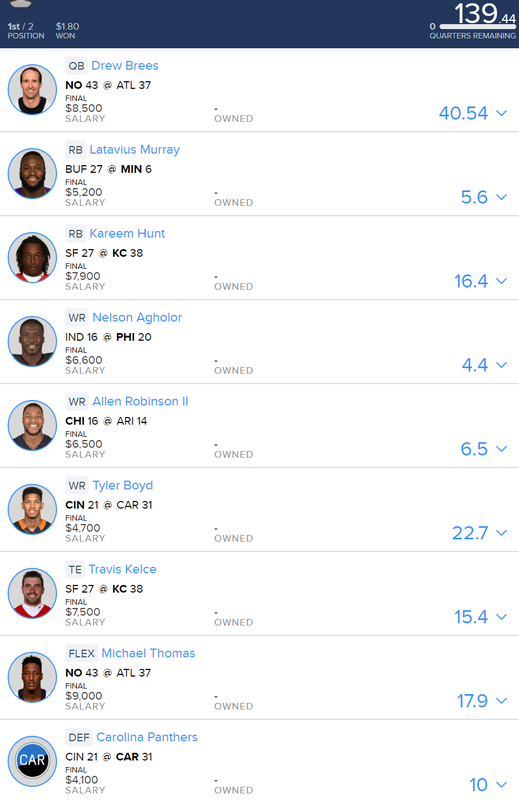 Overall Results
$4K Sun NFL Small Dive
Entries: 1
Results: Loss
100-Player Contest ($2 - Top 12 Win)
Entries: 4
Results: Win 1/4
NFL Head-to-head
Entries: 16
Results: Win 8/16

Credits Spent: $25
Credits Won: $20.40
Analysis
Latavius Murray was in ALL of my lineups, lol. Not only did he not perform that well, I'm wondering if he was overvalued and held by a lot of people (maybe not as highly owned as Michael Thomas however.) Based on what happened in my NFL Pick 'em Pool this week, there's definitely something to be said about avoiding popular picks.
Thanks for reading and let me know what you think about my results! :)