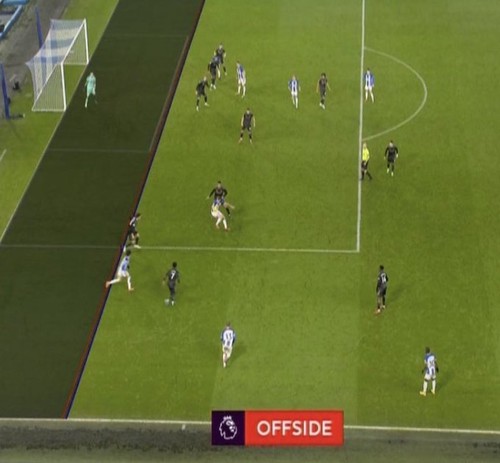 Warning: this article is pure joke and is not by any means saying people from Brighton and Arsenal tried to fix it with 3:4.
This picture you see was, dear reader, how close Arsenal owner Kronke and Brighton coatch De Zerbi were to win odd 100 on Brighton Arsenal game. A lot of players were involved, I think referee was in the game too, but there is one new thing in football which like Arteta like to say "ruin beautiful game". That thing is semi automatic offside technology in VAR. Technology can't be bribed, but only hacked and masterminds of this plan didn't have that in mind!
Brighton goalkeeper was surly in the game. Way how he looked at team mate's back standing behind him makes me think he is lgbt. He probably thought ball will go through body of his teammate and was prepared behind him, but alas while he thought about team mate's ass ball came around team mate inside goal. What a surprise! Outrageous! It was after 60 seconds. Arsenal scored 3 until 52th minute and then Mitoma who is by the way, faster with ball than Saka without it, turned into Son and scored for 1:3. Brighton pressed but counter attack happen and seagull goalkeeper let ball come through him like some spirit released from material body into goal for 1:4. That's when I strart to think about 3:4. Soon after big chance for Brighton, they were few mm away from tap in but scored soon after for 2:4 after Ramsdale bad intervention. Referee stopped to give any fouls to Arsenal I was sure he is in the game too... Mitoma then scored again for 3:4 and Arteta showed to his team calm down it's ok... I went on tweeter to tweet that Metropolitan police does not exist, but hear that VAR decided it was offside so result stood 2:4. De Zerbi made face like his head is in the bag. I can imagine unrest on far east... Organizers failed to include Granit into the game, I expected him to steup up, score own goal or make penalty, but he didn't. There was one attempt near last second and Ramsdale saved it instead to fall in other part of goal and let it in or let in go through him like goalie on other side...
They Arsenal might win the game but they lost stake they put in this game. Brighton lost the game and stake. It's big blow before January transfer window. Where the hell they will find money for Murdoch from Ukraine now ?! Or was it revenge in terms of double crossing by Arsenal for Brighton selling Bissouma to Tottenham or taking them points in previous seasons ? That's how you go when you negotiate with them or make deals dear seagulls! :) 4:3 and 3:4 are not for everyone. :)
What we have learnt from this ? Involving some players is not enough, hacker need to be involved to hack this semi automatic technology to draw wrong lines according to what we want. You should never believe Arsenal or making deals with them... Someone on far east is not happy about this...
Warning: again this was joke and complete fantasy. Happy New Year! :)