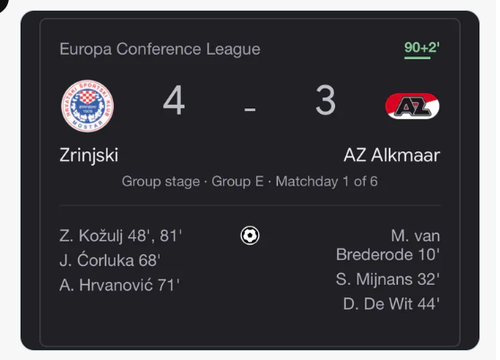 AZ Alkmar is right team to play against clubs from Balkan region. They always played attacking, fast football which is joy to watch. They continued doing that and made "beautiful result" vs team from Croatian part of town of Mostar (Herzegovina part of Bosnia). As you can see they took early 0:3 lead, but then incredible comeback happen and Bosnian representative won them 4:3! Congratulations for result which "returns faith in football". Few years ago when state of Croatia charged Dinamo Zagreb chairman Zdravko Mamic he escaped in that region of Bosnia and I wrote don't be surprised when Zrinjski suddenly become major power in football while once biggest clubs like Dinamo Zagreb, Hajduk Split, Partizan or Red Star stand and watch in disbelief. Is it happening now ? We'll see in next rounds of this competition.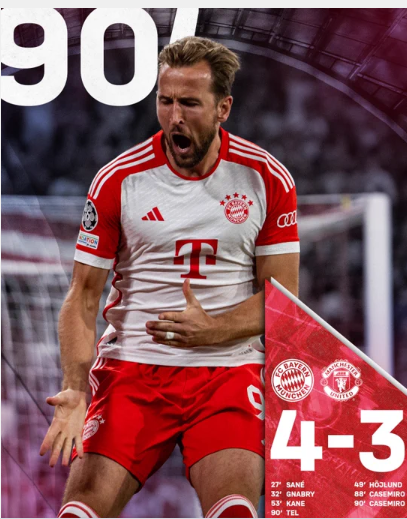 There were more "beautiful results" on European stage. It happen in Bayern Munich Manchester United game. It didn't look like that, but finish from hell with second goal by Manchester following by Bayern goal and culminating in last second goal of Manchester for 4:3. Onana was 100% guilty for goal number 1, goal number two was normal, United made it 2:1 as soon as second half start, but then referee and VAR room jumped on the stage awarding Bayern debatable penalty after Erisken's handball. Harry Kane didn't have mercy and fired ball inside the net for 3:1. After that Onana suddenly transformed in Neuer prime and started saving everything... Then finish from hell happen and game ended in beautiful result of 4:3!
Did you notice how happy were everyone after ? Smiles was on everyone's faces, they congratulated each other. I am sure a lot of them in Malaysia were very happy too with those football gentleman!
One more thing. I watched how Serbian team played and noticed each of them Red Star, Cukaricki and TSC scored first and take lead 0:1 and then opponents started to play with little bigger intensity and faster and easily change result to 3:1. Red Star lead on half time and hit odd 30 for from 2 to 1 HT/FT.
What to tell at the end ? It is obvious Malaysian gambling syndicate is not dead! Laughs.