Tottenham - Burnley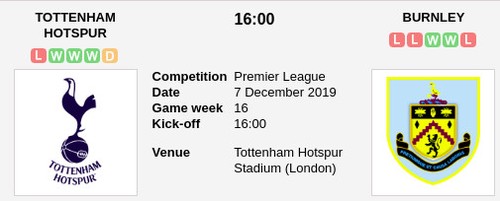 Tottenham is scoring and conceding goals in every game. It's no wonder for club which has players like Ali, Kane, Son, Lucas on one side and Aurier, Rose, Sanchez, Winks on other. Burnley can score goals away too, but when they have their day they can concede a lot of them. That's why I see here things like both club to score and over 2.5 and at the end of the day Spurs winning this. Odd for both clubs to score and over 2.5 is 2 which is very good and give us opportunity to double our stake without much nervousness. Spurs simply can't be clean sheet with those players backwards. It's almost impossible. Sooner or later Sanchez will explode, or Winks will pass back wrong, or Aurirer will not be on his place and that will be goal. In attack Delle Ali will not refrain and will score, H. Kane also does not like failing in scoring goals in multiple consecutive games. Son can always surprise in attack too.
Tip: both clubs to score & over 2.5 (odd 2)
Fulham - Bristol City

If we dive in Champioonship we can see Fulham with 4 consecutive wins and with Serbian striker Aleksandar Mitrovic on fire. He scored 2 goals in last game. He scores in almost every game. Other players like Ivan Cavalero and Kamara are ready to jump on scoreboard too. Bristol City failed to score goal in last 5 away games just against Luton. In every other game they scored at least one. In last home match they gave 5 to Huddersfield. Both clubs are currently in play off zone with Fulham maybe capable to jump even to second place if Leeds start to lose points. I see goals on both sides in this game too. I also see Mitrovic on scoreboard again. Not sure if it is going to be 3:2,2:1 or 2:2, but I completely rule out results like 0:0, 1:1 or 1:0 for someone. It can't be 0:0 when Mitrovic is in squad and with Fulham's defense. He's an absolute beast and big bully for defenders. Odd is really good and give us opportunity to double our stake.
Tip: both clubs to score & over 2.5 goals (odd 2)