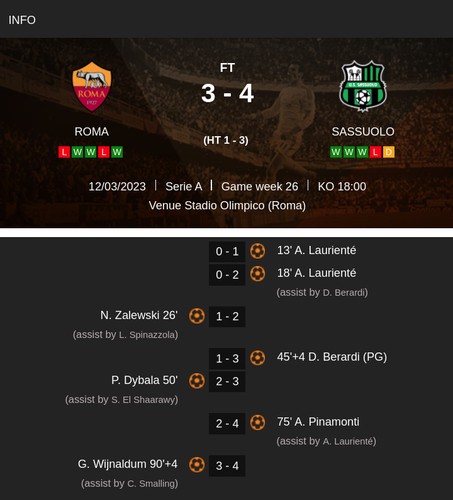 This is fantasy and you can consider it like conspiracy theory! If you are long term Scorum member you know what I am talking about. It's of course my favorite result of football game of 4:3 or 3:4 which have odd 100 when you target it with correct score.
The one who was last suspected, defensive coach who plays boring football, special one from Portugal, Jose Mourinho played 3:4! I could never imagine this in my wildest dreams! It's Shocking! and amazing at the same time! I mean who in right mind would predict such thing ?
In this "one of those games" against Sassuolo Roma lost with my favorite result 3:4. If someone ever consider playing 4:3 or 3:4 he would of course put it 4:3 because Roma is better side. Oh those Malaysians! They think only on themselves. They took us on surprise! "One eyed" is still seeing things very clear. Malaysian syndicate is not dead! LoL
Last goal was scored like always, like always in 90th minute or in the stoppage time not to give time for any players who are not "in the game" to corrupt "beautiful result". Wijnaldum you football gentleman you did it didn't you ? Jose next time when you plan to do this please contact me. I found this only day or two after, because I am to focused on England Premier League. I should watch more Serie A don't you think ?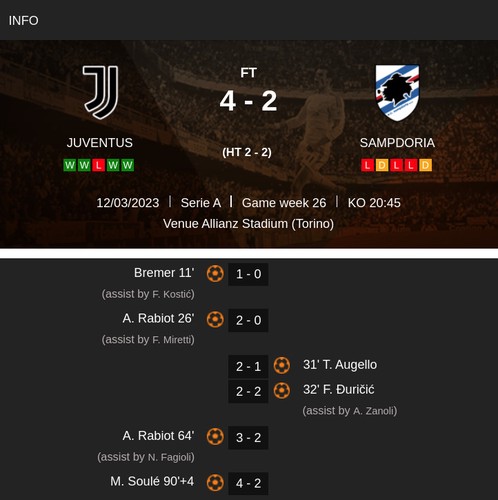 Juventus almost did the same against Samprodia, but Dejan Stankovic's side was one goal short and it ended with 4:2. Fourth for Bianconeri felt in right time, but Winksy and players from Genoa failed to score third. Dejan Stankovic someone in Malaysia is not very happy with this. :) If that happen that would be epic fulfilling of dream of every football tipster and that is having odd 100 x 100 or 10000 x stake! Stake of only 100 can bring 1,000,000. From Juve's point of view it's probably why wouldn't have we some fun when we are victim of 15 point deduction issued by judge heavily bound with Napoli ?
This fantasy is based on statement from 1990ies from Serbian Sport Journalist about illegal Malaysian gambling syndicate lead by person called 'One eyed' who is influencing on results of football games in all leagues. By the way do you know that our President was again in Far East recently? What does this tell you ? Expect unexpected. It's probably time for "show up" of some other club from some other league next weekend ? Do you know Mr. Solak from Serbia is owner of Southampton and elder Mr. Dan Tana (Dobrivoje Tanasijevic) from Holywood has stakes in Brentford ? Sadly they played only 0:2 on Wednesday. One whose name I will not tell in this story could maybe direct his influence over players in right direction and give us yet another game "which return faith in football" on Saturday ? Coach is also accused of playing defensive football and one of those games would maybe make fans flip their minds and bring us some good numbers or shell I tell funds for summer ? :)