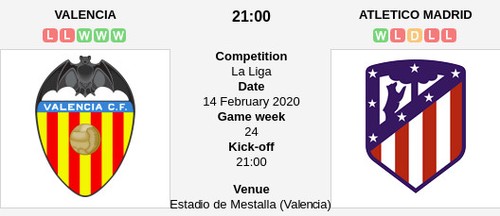 Two participants of Champions League decided to play their match before weekend because they want more time to rest before heavy games against Atalanta and Liverpool. Game will start tomorrow at 21:00 o'clock Central Europen Time at Estadio de Mestalla in Valencia. This isn't just recreation place for away sides.
Look on the table and importance of game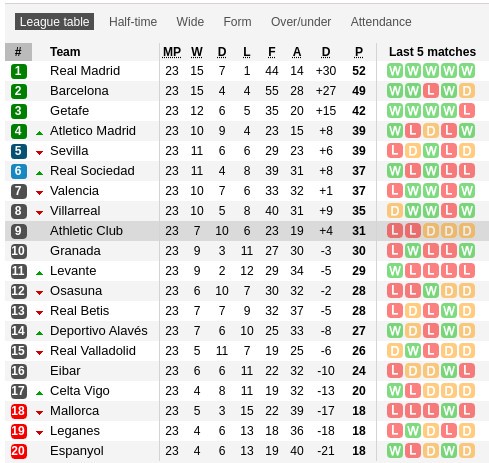 Quick look on the table reveals importance of this game for both sides. No matter how good they play against Atalanta or Liverpool it's hard to believe that one of those clubs can secure Champions League football next season by winning competition this year. There are big boys like Liverpool, Manchester City, Real Mardid, Barcelona, Bayern Munich, Juventus which will most likely eat them for breakfast when right time comes. That is why it's very important to grab one of first 4 places on Primera Table. Atletico is just there with same number of points like Sevilla, while Valencia is on 7th places two points behind this heaven.
Current Form
Both sides are not in big form at the moment. They have 3 wins, 1 draw and 2 losses in last 6 games. Bats are one club in their cave and completely different away from it.
Valencia
Valencia - Eibar 1:0 (1:0)
Mallorca - Valencia 4:1 (3:0) ?!
Valencia - Barcelona 2:0 (0:0)
Valencia - Celta 1:0 (0:0)
Getafe - Valencia 3:0 (0:0)
Atletico Madrid
Atletico M. - Levante 2:1 (2:1)
Eibar - Atletico M. 2:0 (1:0)
Atletico M. - Leganes 0:0 ?!
Real M. - Atletico M. 1:0 (0:0)
Atletico M. - Granada 1:0 (1:0)
Losings against clubs like Eibar or Mallorca were bellow level of those two clubs, while Valencia win against Barcelona was big surprise for me.
Head to head since 2016
These clubs often played each other. Since 2016 results were:
19.10.2019. Atletico Madrid - Valencia 1:1
24.04.2019. Atletico Madrid - Valencia 3:2
20.08.2018. Valencia - Atletico Madrid 1:1
04.02.2018. Atletico Madrid - Valencia 1:0
09.09.2017. Valencia - Atletico Madrid 0:0
05.03. 2017. Atletico Madrid - Valencia 3:0
02.10.2016. Valencia - Atletico Madrid 0:2
06.03.2016. Valencia - Atletico Madrid 1:3
In recent times Valencia could only get 1 point from this opponent. They do it usually at home. They played 1:1 earlier this season in Madrid.
Sidelined players
According to various sources those Valencia players will probably miss this game:
K. Gameiro, E. Garay, J. Cillessen, Manu Vallejo
Few Atletico players will probably miss this game:
H. Herrera, Morata, João Félix, S. Arias, K. Trippier
Conclusion:
Despite importance of this game both clubs will probably save some strength for Atalanta and Liverpool. They aren't in big form. Valencia is much better club at home than away and won Barcelona recently. Atletico is tough opponent which can make very good defending. I don't think any of those clubs can win this game and I also don't expect goal festival here. Valencia managed to draw them away, why they shouldn't repeat that success in front of home fans ? On the other hand they are not to strong to win Atletico.
It looks to me that X with bellow 2.5 goals will most likely occur, something like 1:1.
I offered bet worth 50 SCR on draw with odd of 3.00 on betscorum here:
https://betscorum.com/en-us/game/53577

This article has been written for scorum loyalty program here: https://scorum.com/en-us/betting/@scr.predictions/scorum-loyalty-program-now-not-only-for-tipsters
Contest
Feel free to write your opinion about this game with correct score and first goal scorer (in case you don't think it will end 0:0, if so just predict 0:0 ).
Rules:
If anyone guess correct score and first scorer right he'll get full upvote from me.

In case no one correct predict goal scorer, but somone guess right full time result he's the winner.

In case of multiple winners vote will be shared between them.
I'll upvote each comment with 10%, you can enter predictions until 20:55 CET (5 minutes before game starts).
Thanks for reading.
I say 1:1 and M. Gómez (Valencia) scores first.