My pick this week is G. Hardy (Moneyline @1.32). I went back and forth on this bet. Because odds on this bet is so low. And with heavyweights, all it's take is 1 lucky punch and my usual strategy is to bet on underdogs, but...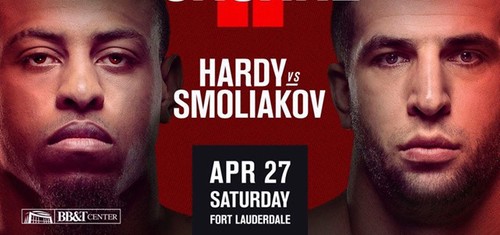 Hardy is bigger, faster, has more power, 6.5'' reach advantage. On the feet, he is a tornado in the first round. But he had very serious problems with cardio in his last fight. Tho I am sure that Smoliakov would be exhausted in the 2nd round too if the fight would reach that point. But it won't. Hardy will KO Smoliakov in the first round.
As I said I went back and forth with this bet until I saw an interview with Smoliakov from March 3rd when the fight got announced. I didn't know that they both trained at ATT at the same time. They even were sparring partners and Smoliakov said himself that this fight will be hardest in his career because Hardy has very fast hands and he is huge. One thing that convinced me to bet against Smoliakov was that he said that he will do half of his camp at home and will fly out to do last half of the camp at ATT (in the same gym as Hardy) to get acclimatized. His attitude was basically that he will be in enemy territory and he will not be listening to the coaches that will be assigned to him. He will have a few training partners and that will be enough for him. He basically looks at this fight as a lottery ticket. Which it is. But IMO with 2-3 times lower odds than bookies think.
---
I am also considering Cory Sandhagen pick @2.25 against John Lineker. Cory has more tools to win the fight and he is much bigger, but Lineker has hands of stone (as his nickname rigthfully implies). He has 1 punch KO power and he has (at least had up until now) a great chin. So this stops me from immediately betting on Cory. But Lineker was in many wars... That chin might be not as strong as before. And Cory is on a roll lately finishing dudes with all kinds of ways. I will wait until the weigh-ins to decide on this one.
---
If you would like to participate in SBC League too, read this post and join us! You can check all my bets in my blitzpredict.io profile.