One of my hopes on this platform is that we will see new sports on BetScorum in a few upcoming months. I would really like to bet some of my SCRs on MMA fights!
Waiting for new features on this platform is boring :) and it seems that it takes forever to get them. But I understand that we are in the middle of the development of this startup and this is the reason why it looks slow. If it will succeed, in 2025 looking back we might have a different understanding about the speed of the development. Anyway, I'm talking too much. Let's get to the point of this post.
I am offering the best odds on the market for the 3 main fights from the upcoming UFC 241
I thought to myself - I have some SCR, I want to bet on MMA fights, so why can't I do that with my Scorum friends?
These 3 fights are very interesting and very well matched. I like all these guys, so I am offering odds on both sides (you chose who should I root for) :)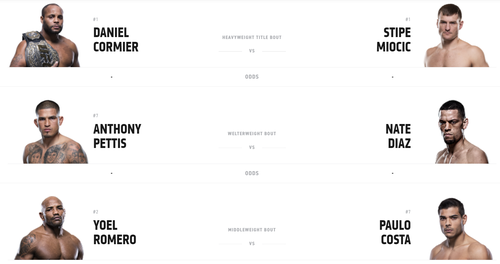 Cormier D. (1.75) - Miocic S. (2.23)
Diaz N. (2.16) - Pettis A. (1.79)
Romero Y. (1.73) - Costa P. H. (2.31)
Betting lines are closed! Good luck!
---
If you want to bet U/O or the particular ending of the fight, put the link in the comments with the best odds you could find and I will match it.
If we interacted before and I trust you, you don't need to send me SCR in advance (just make your bet in the comment section). If you are new here or if I don't know you, I will confirm your bet only if you will send SCR to me first.
I limit my exposure to 1000 SCR in each of these 3 fights. Make your bets in the comment section. Your bet will be accepted if I confirmed it with a reply to your comment.
Every bet that will loose will receive an upvote from me to ease the pain a bit (10 SCR bet=10% upvote, 50 SCR bet = 50% upvote, etc.).