Football is not my strong suit so I was super excited when SBC League moved to BlitzPredict, because now I will have a chance to participate in SBC League while taking picks in the sport, which I love and watch religiously! MMA!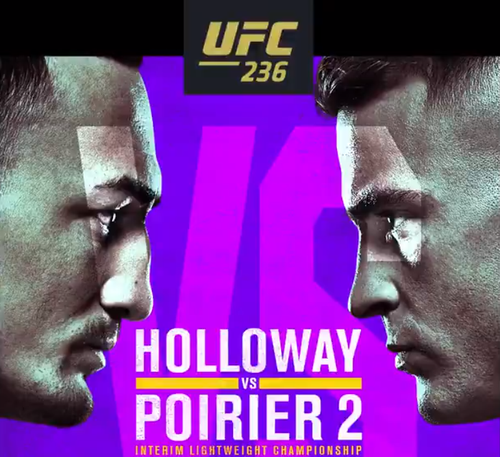 From the upcoming UFC 236, I picked 3 fights that I am confident enough about my opinion on how they will end.

Dustin Poirier vs Max Holloway
I picked D. Poirier to win the main event with @2.8 odds. The main reason for that is the odds. These 2 fighters are very evenly matched and in my opinion fair odds would be @2 for both of them. But M. Holloway comes into this fight with a very impressive 13 fights win streak and his last fight was a demolition of B. Ortega's (up until that fight undefeated title challenger) face. So I think Holloway's "stock" might be a bit overvalued at the moment because he looked very very good in his last fight.
Poirer in his last few fights KOed Gaethje, Alvarez and Pettis! And these dudes are monsters! I do not understand how he is such a big underdog in this fight. He also has an advantage on the ground if the fight would go there.
So I am quite confident with this underdog bet!
Kelvin Gastelum vs Israel Adesanya
I think Adesanya will win by 4th round TKO (knee and will finish with ground and pound). Israel has much more tools in his arsenal but Gastelum is a dangerous and powerful boxer who also has an advantage on the ground. I think they will be feeling each other for the first few rounds and in the 4th Adesanya will catch Kelvin with a knee while he will be attempting to get a takedown (after little success in the standup department).
Alan Jouban vs Dwight Grant
A. Jouban will win against Grant by stunning Grant with his beauty :) Dwight will feel bad after punching Alan's face a few times so he will stop :) and Jouban will win by decision. And if I'm being serious I think experience will be the main factor of this fight. And Alan has much more of that stuff in the octagon than Dwight, who is just starting his career.
---
These are my picks. I am no expert, but I like MMA and I see those fights ending that way. What do you think? Who and how will win?
If you would like to participate in SBC League too, read this post and join us!
Good luck! (to me) :)