I couldn't really decide on a match to go into detailed analysis about today so I thought I'd give a little synopsis of all the matches and where I'll be putting my money. One overriding factor that will influence all the games tonight will be that the UK is set to see temperatures rise above 30C today. I know some of you will live in countries where 30degree weather in the summer is the norm but we in Old Blighty rarely get such a privilege. To be honest, at the point temperatures hit around 18C here you'll see English people stripping off and exposing their pasty white flesh so when we get this kind of heat the collective insanity really takes off! As the old saying goes - only mad dogs and Englishman go out in the midday sun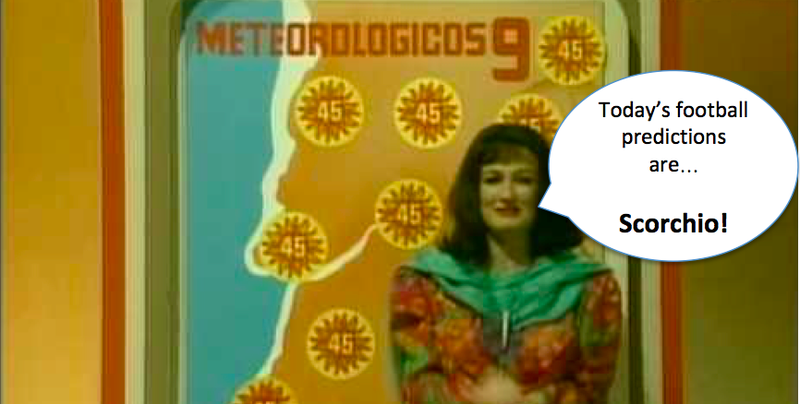 Temperatures like this are not particularly conducive to good football and particularly not if you're a Premier League footballer. Beyond just not being used to playing in this kind of heat, the style of play we generally favour in this country requires footballers to spend far too much effort for them to last very long in this energy-sapping heat. You only have to look at the national team's years of underachievement in summer tournaments around the world to know this much is true.
Manchester United v Sheffield United
In my analysis of how the break might have impacted sides, I suggested that a team like Sheffield United who had overachieved to date might struggle to replicate that form. A draw against Villa and loss to Newcastle underline a fairly underwhelming re-start and things aren't about to get any easier for them here.
Against Tottenham, United struggled to instigate the kind of fast breaks that have been so effective for them and their speedy forward line this season and it took the introduction of Paul Pogba in their midfield to really threaten an organised Spurs defence. I would imagine that Sheffield United will set-up in a very similar way and you'd have thought Pogba will start this game in order to provide the quality to unpick them.
Sheffield United aren't helped by the suspension of John Egan and star keeper Dean Henderson being ineligible to play against his parent club. This United team are on a 12 match unbeaten run having scored 30 goals and conceded just 3 in that time and as such, I think backing them to beat an out of form and stunted Sheffield United side makes sense
Manchester United to win @1.45 or better
---
Newcastle v Aston Villa
This game does not have the makings of a classic encounter.
Newcastle's 3-0 victory against 10-man Sheffield United was the first time they have managed 3 goals in a home fixture all season. The win itself has all but secured their place in the Premier League but I doubt that Steve Bruce is about to try and slip the handbrake just yet particularly against one of the teams looking to catch them.
Villa for their part have fought hard in their 2 games back but as has been the case all season they just lack the quality in the final 3rd to really hurt teams at this level. With West Ham losing last night and Watford not playing until later in the week this game represents a massive opportunity for them to peek their heads out of the relegation zone but I would imagine it will be a tight, tense affair.
Under 2.5 goals @1.77 or better
---
Norwich v Everton
Quite simply this is a must-win fixture for Norwich who are now 5 points adrift at the bottom of the table. Given their position, their 2nd half showing against Southampton at the weekend was woeful and you feel if they can't bounce back with a performance and some points from this fixture then it is pretty much game over for them. In general, this Norwich side seems to have struggled to get themselves up for some games, reserving their best performances for when they play the top teams so could this be the kind of occasion to fire them up?
Everton played out a nil-nil draw on their return to football but had their finishing had been a little more clinical then they might have finally beaten their archrivals, Liverpool. Ancelotti's men need a win to get themselves moving in the right direction and I'm sure we will see a very different set-up tonight. Compared to the home side, Everton have nothing to lose and I wonder if this could be the kind of punch, counterpunch fixture that produces some goals
Over 2.5 goals @1.95 or better
---
Wolves v Bournemouth
The next couple of months could well determine whether Wolves are able to truly consider themselves one of the big boys of the Premier League. They are level on points with United and just 5 points behind Chelsea in 4th place with their recent form equal or better than all the sides above them. On paper their run-in is not particularly difficult save for a final day fixture against Chelsea and after that, they might fancy their chances in the Europa League.
I mentioned in my analysis of the impact of the break that sides who were capable of playing possession-based football would probably do well in this mini-season we are having and Wolves certainly have the personnel to play in that manner. However, in Adama Traore, they also have a very powerful blunt object with which to puncture holes in any side's defence and it will be interesting to see whether he plays from the start or is used later on when the opposition's legs are beginning to tire in this heat.
Bournemouth, everyone's 2nd favourite team, are in serious trouble. They looked meek in their 2-0 home defeat against Palace at the weekend and managed just 1 shot on target all game. In fact, their season, in general, has seen them struggle in front of goal as they average less than a goal a game. In previous seasons their ability to score has helped cover-up for a defence that has never been particularly solid. Leaking goals at one end and not scoring at the other means that their current stay in the Premier League is looking more and more tenuous.
Wolves to win @1.58 or better
---

Liverpool v Crystal Palace
Liverpool find themselves in a very strange position. This should be a joyous occasion where all of their final fixtures particularly at home are a celebration of a first league title in 30-years but of course, social distancing has robbed them of the Anfield faithful. There is no doubt they will win the league at some point but it's exactly that kind of mentality that could see them flop across the line as opposed to marching triumphantly over it with chest puffed out. The situation is made worse when you consider they are out of the FA Cup and the Champions League so it will be interesting to see how Klopp motivates his squad over the next 5 weeks.
Crystal Palace meanwhile have been moving with great stealth and no little skill to within 4 points of 5th place. Their victory over Bournemouth was their 4th on the trot in the league and they have a history of being a difficult nut to crack for teams near the top. That being the case, a punt at Palace to win at odds of 13.0 is probably not a bad bet.
As predicted against Everton, Liverpool were a little short of ideas in the final 3rd and lacked any cutting edge in their forward line. Normally you would expect them to blow the opposition away in the first half-an-hour in front of a packed Anfield but this Palace side is very well organised and will fight to the end.
Under 2.5 goals @ 2.20 or better