Hoffenheim v RB Leipzig Bundesliga prediction and preview
While the title in the German Bundesliga is all but done and dusted, elsewhere in the league there is still plenty to play for at both the top and the bottom. Tonight's lone fixture sees an invigorated Hoffenheim chasing a spot in next year's Europa League hosting a somewhat unpredictable RB Leipzig who are looking to shore-up a place in next seasons Champions League.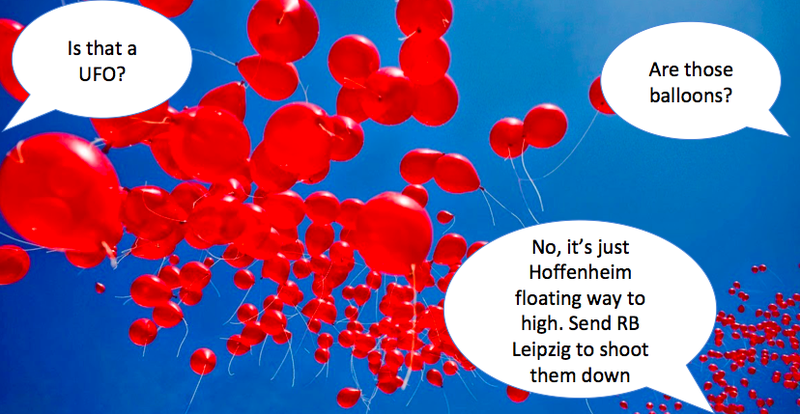 I say invigorated as Hoffenheim have enjoyed something of a turnaround in their form and fortune since the league restarted as detailed in an earlier post here. With the likes of Freiburg and Schalke falling away in the last month Hoffenheim have taken their opportunity to move up the league and now sit just 2 points off Wolfsburg in 6th and a shot at European football next year.
However, when we look a little closer at the opposition that Hoffenheim have faced to date then it becomes clear that they've had somewhat of an easy time since the league kicked off again. In fact, they haven't played a team in the top half of the league yet (Hertha Berlin were 13th when they beat Hoffenheim in the opening match) let alone one of the top 5 and with draws against relegation candidates Paderborn and Dusseldorf in recent weeks you might actually say that they have underachieved given their rather generous fixture list.
Just like Nena's classic 1983 hit suggests, perhaps their rise has been mistaken for something that it's not? In Nena's case 99 balloons being mistaken for a UFO that the German airforce is sent out to shoot down. Are RB Leipzig about to expose Hoffenheim for what they really are and send them tumbling back down to earth?
Their opponents have been very much the Jekyll and Hyde team of the Bundesliga even since before the league shut down and that inconsistency in form over the 2nd half of the season has undoubtedly cost them a shot at the title. Instead, RB Leipzig are left to fight it out for a Champions League spot and with 4 games to go you would have to say that a win here, coupled with their superior goal difference and the faltering form of other teams around them would all but guarantee them a seat at the top table of European football next year.
Leipzig's forward line is one of the most exciting in Europe at the moment but of course it remains to be seen how many more games they play together as the big money from abroad circles their prize assets. A red card and a last gasp equalizer against bottom side Paderborn in last weekend's match will no doubt have hurt and you wonder whether the transfer speculation surrounding the likes of Timo Werner who is just waiting to put pen to paper on his Chelsea deal is distracting the squad at this crucial stage of the season.
Of course, RB Leipzing aren't the only side in tonight's game who are dealing with turbulence off the field. Hoffenheim parted ways with their head coach Alfred Schreuder this week citing a difference of opinion on how to take the club forward. Schreuder leaves with his brother who was also a coach at the club and his assistant. Given Hoffenheim's position in the league and the importance of their run-in it does seem unfortunate for the club and their fans that those differences couldn't be put aside until the close season. The remaining coaching staff have taken interim charge of Hoffenheim while they look to fill the position
When they get it right Leipzig have been pretty much unstoppable this season particularly on their travels having scored 9 goals in their last 2 away games. In fact, they are the league's top scorers in away fixtures. However, they've also dropped points to lesser opposition in recent times so this is far from a foregone conclusion. In fact, I would say you could essentially toss a coin over which RB Leipzig side is going to turn up tonight and as such I'm taking a better than evens punt on it being the attacking force that buried the likes of Koln and Mainz in recent games who comes out to pop Hoffenheim's balloon.
Prediction: RB Leipzig to win handicap -1 at odds of 2.10 or better
Bet here on betscorum
This post is written as part of the Scorum Loyalty Program