City were hardly brilliant against Arsenal in their opening game with a last-minute goal adding some polish to a performance that was generally underwhelming and helped in no small part by errors from the opposition. However, that has generally been the pattern across all the games in the Premier League since its return with the winners of matches generally the side that makes fewer errors while simultaneously capitalising on the opposition's mistakes.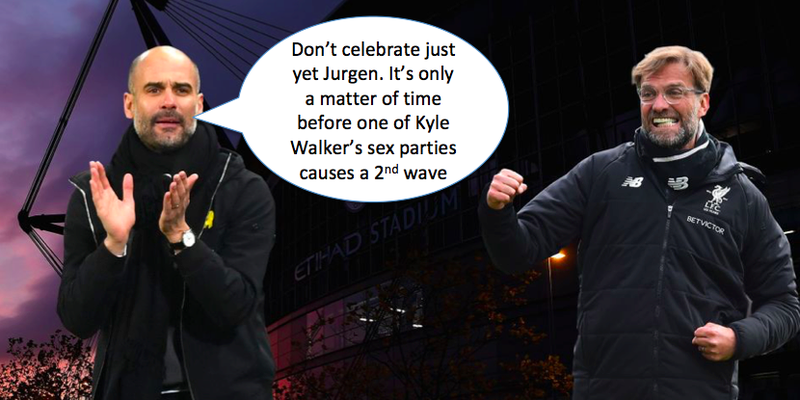 Despite City's obvious quality and the fact that they've had an extra competitive game with which to gain match fitness (something that hasn't helped either of the other 3 sides in that situation), I would imagine that we are not likely to be in for the kind of performance that has seen the home side run-out 5-0 winners on each of the last 2 occasions these 2 met at the Etihad or the 4-1 thrashing that City inflicted at Turfmor earlier in the year.
Instead, City are likely to play a low tempo possession-based game that will be akin to a pre-season friendly and why not? Afterall there is very little for them to play for in terms of the league and therefore their focus is entirely on the Champions League which begins in August when they entertain a Real Madrid side who do not have the luxury of such a leisurely preparation given their own domestic title chase.
Possession has of course been the key for this City side throughout the season and they lead the overall possession stats having had the ball on average 61.7% of the time. However, when you dig down a little deeper at the stats when they play at home against sides in the bottom half of the table then you really get a sense of their dominance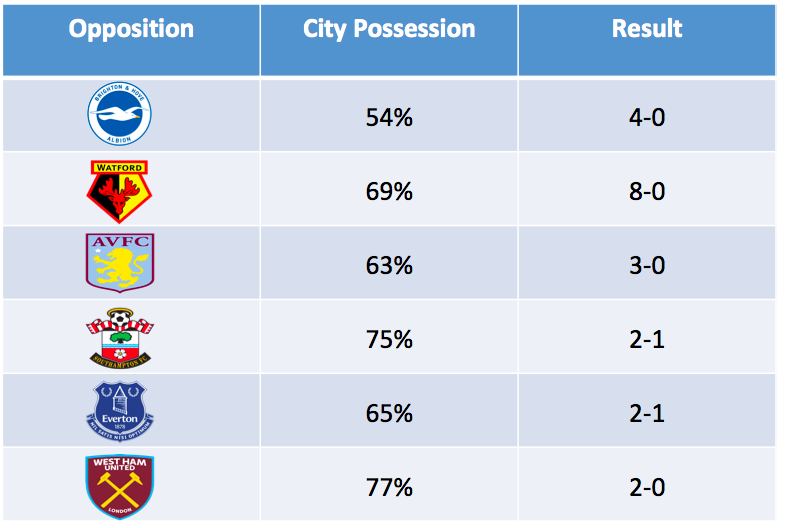 In real terms then, Burnely are likely to be in possession of the ball for somewhere in the region of 15-20mins for the duration of the game (average ball in-play time in the EPL is about an hour a game). Do they have enough upfront to hurt City in that time?
Sean Dyche has done a good job of building a stronger Burnley squad over the last couple of years particularly in regards their forward line but their chances in this match of scoring against City are dampened by the fact that both Chris Wood (11 goals this season) and Ashley Barnes (6 goals this season) are likely to be unavailable. Both players are also a major threat from set-pieces which given the anticipated lack of possession seems to be the most likely way that the visitors will score against this City side. In their absence, James Rodrigeuz will lead the line and Burnley will looking to him to add to his 8 goals this season if they are to stand a chance of a least unsettling City.
The bookies are offering very short odds on City winning this game but they are being slightly more generous with City winning to nil. No doubt City's weakened defence which has contributed to them losing 7 matches this season and giving up their title is a contributing factor but there is reason to believe that they can take victory in this match and not be overly troubled by a Burnley team that are their traditional whipping boys.
Prediction: Man City to win to nil @1.80 or better
.
Betscorum doesn't offer this particular line but I have added liquidity on the BTTS market, you can bet on that here
This post is written as part of the Scorum Loyalty Program