One of the biggest and most popular outright markets for any Premier League season is for the top goalscorer and with so many high profile names to choose from, 2020-21 isn't any different.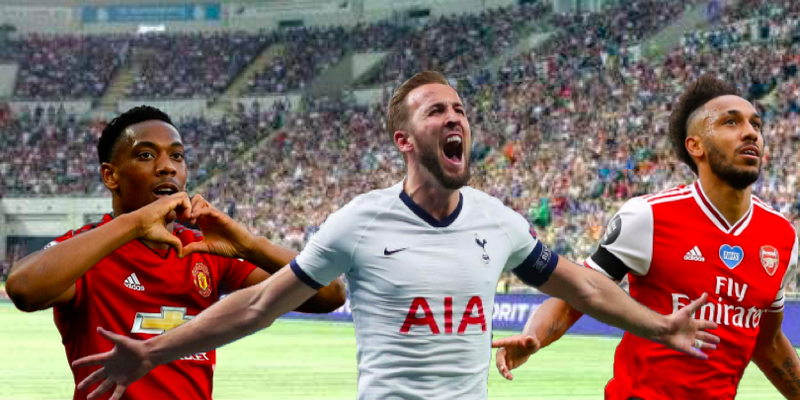 The last couple of seasons have required a relatively low total goals haul to win the Premier League's Golden Boot but of course that in itself tends to mean that there are many more candidates for it and I'd be surprised if this season were any different. The options therefore are numerous, so this blog will concentrate purely on the favourites as well some of the outliers who represent good value. You can find the full odds on William Hill here.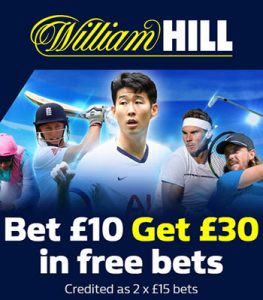 Harry Kane
The current favourite to be top goalscorer is Spurs talisman and England captain, Harry Kane. Since making his debut for Spurs in 2013 only Sergio Aguero has scored more Premier League goals than the Englishman with Kane having won the Golden Boot twice before in 2016 & 2017.
The last couple of seasons have seen Kane's ambitions hampered by injury but even so he has returned 0.63 Premier League goals per 90mins. Assuming that he can remain available for the vast majority of the season then it's difficult to imagine that he won't be in the running for Premier League top goalscorer 2020-21.
There have been question marks over how effective Kane will be under the management of Mourinho but as "The Special One" pointed out in the above interview, he has gotten the best out of many of the world's top goal scorers and with Kane the only viable option at centre forward for Spurs there is no reason to think he won't be able to do the same again in 2020-21.
Odds: At odds of @5.5 Kane is the favourite to be the Premier League top goalscorer this season and for good reason too. There are very few better centre-forwards in Europe and if Kane is fit for the majority of the season you would expect him to be challenging for the golden boot.
---
Pierre-Emerick Aubameyang
Aubameyang has continued to be a consistent Premier League goal scorer these last couple of years despite Arsenal's struggles in the league, finishing as the joint golden boot winner in 2019 and just 1 off Jamie Vardy in 2020.

As long as the Arsenal captain commits his long-term future to the club (and it looks as though he will) then there is no reason to suspect that he won't repeat those feats. Indeed his late season form in what looked like a rejuvenated Gunners side under the management of Mikel Arteta suggests that he might be even more effective in the 2020-21 season. Aubameyang managed 9 goals in his last 9 games of the season including the winner against Chelsea in the FA Cup final.
Odds: Aubameyang is likely to breach the 20 goal mark once again for Arsenal and provided his long running contract negotiations finally come to an end there is no reason to believe this couldn't be his best season yet for Arsenal. Arteta looks likely to build the forward line around Aubameyang in 2020-21 and odds of @6.5 look a good shout for him to Premier League top goalscorer.
---
Mo Salah
Salah was the Premier League's top goalscorer for 2 seasons running in 2018 & 2019 but his returns have been consistently falling since he hit 32 goals on his return to England's top flight 3 seasons ago.
Still he was involved in a total of 29 Premier Goals last season with only Kevin De Bruyne having a greater impact than Salah for his team. Salah's goalscoring form also got increasingly better as the season went on and he is currently the joint highest Premier League scorer (10) in 2020.
Odds: Again you'd be a brave man to bet against a player of Salah's class playing in a side as effective as Liverpool's breaching the 20 goal barrier in the 2020-21. Given the amount of football he has played over the last few years, I feel the 2 month break in the spring may have done him the world of good and he'll be looking to be sharp in and around the box this Premier League season. You can back him to be top goalscorer @7.0
---
Raheem Sterling
Despite the glaring miss in Man City's recent Champions League exit, Sterling remains City's most consistent goalscorer. His tally of 20 in last season's Premier League was the first time in his career that he has passed that particular milestone and Guardiola seems to know how to get the best out of the England forward with his goal scoring returns heading in the right direction these past few years.
As discussed in a previous blog, this City side know how to score goals in the Premier League and there is no reason to believe that will stop in 2020-21 with Sterling more often than not the man who will finish on the end of their sweeping moves.
Odds: Man City have a point to prove in the 2020-21 Premier League season and Sterling will be keen to show the world that he is better than the miss that cost City their ultimate aim of a Champions League win. You can back him to bounce back and be Premier League top scorer @12.0
---
Timo Werner
The new boy at Chelsea has certainly scored his fair share of goals in his native Germany! Only the great Robert Lewandowski scored more times in the Bundesliga than Werner (28) last season and if he can continue that goal scoring form then he will certainly be challenging for the golden boot in his debut Premier League season.
Tammy Abraham was Chelsea's top scorer last season with 15 goals but his expected goals per 90mins was a staggering 0.73. If this Chelsea side can create a similar number of opportunities for Werner in 2020-21 you would imagine that he will be able to return a significantly greater number of goals than the man he is replacing managed.
Odds: As an unknown quantity, Werner's odds were always likely to start a little longer than many of the other top strikers on this list but at the same time that means he could be an excellent value bet @15.0
---
Jamie Vardy
Jamie Vardy has made a career out of being under estimated and not many were backing him to be Premier League top goalscorer last season before he delivered 23 goals in 35 games.
Vardy will once again be the focal point for a Leicester side that will hope to emulate the kind of season that they achieved last time out and the England striker is the perfect player for the kind of football that the Midlands club like to play.
Odds: Given that only Mo Salah and Harry Kane have scored more Premier League goals over the last 3 seasons than Jamie Vardy then the Leicester man represents excellent value to defend his crown as top goalscorer in 2020-21 @15.0
---
Anthony Martial
Getting to longer odds now but Martial is a genuine dark horse to be named Premier League top goalscorer for 2020-21. The French forward is now being deployed as a central striker and with the likes of Rashford and Greenwood either side and Fernandes and Pogba behind him the chances are likely to continue to fall his way.
He has scored 10 goals so far in 2020 making him the joint highest Premier League scorer for the calendar year to date. More impressive to that stat is that he isn't a regular penalty taker for United so his goals generally come from open play albeit that of course in the final reckoning that is also likely to count against him.
Odds: There is tremendous value in Martial to finish as the league's top-scorer in 2020-21@17.0 especially given his new found position in this attacking United side
---
Other notable odds
Danny Ings - Ings notched 22 Premier League goals in 2019-20 as part of a Southampton side that got progressively stronger as the season went on. Southampton look like they are keen to strengthen over the summer and Ings isn't a bad bet to go one better than 2nd place last time @23.0
Sergio Aguero - Agüero has been the most consistent goalscorer in the Premier League for the best part of a decade. The only thing that has/will stop him from toping the scoring charts again this year is likely to be game time. His 16 goals last season came from 24 games and you'd feel he'll need to make a minimum 30 appearances to stand any chance of winning the title he held in 2015. You can back him to do it @8.5
Gabriel Jesus - You bet on Aguero's young understudy at City, Gabriel Jesus to finally claim the Argentine's mantel as top striker and potentially usurp them all for the golden boot in the 2020-21 Premier League @17.0. Last season, Jesus's expected goals per 90mins was an impressive 0.94 meaning that if he can get more game time and sharpen up on his finishing, 20+ goals looks a distinct possibility.
Sadio Mane - The Liverpool forward finished joint top scorer in 2019 and while he didn't quite hit those levels in 2020, his 18 goals from a wide forward position were still impressive. Expect him to be a key man in Liverpool's attempt to defend their Premier League title in 2020-21 and you can back him for top-scorer @13.0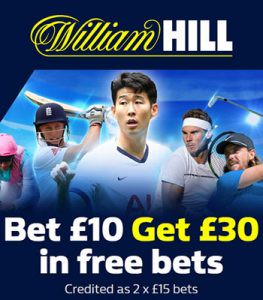 For more betting offers on both fiat and crypto bookies and exchanges visit FA Cup Finals