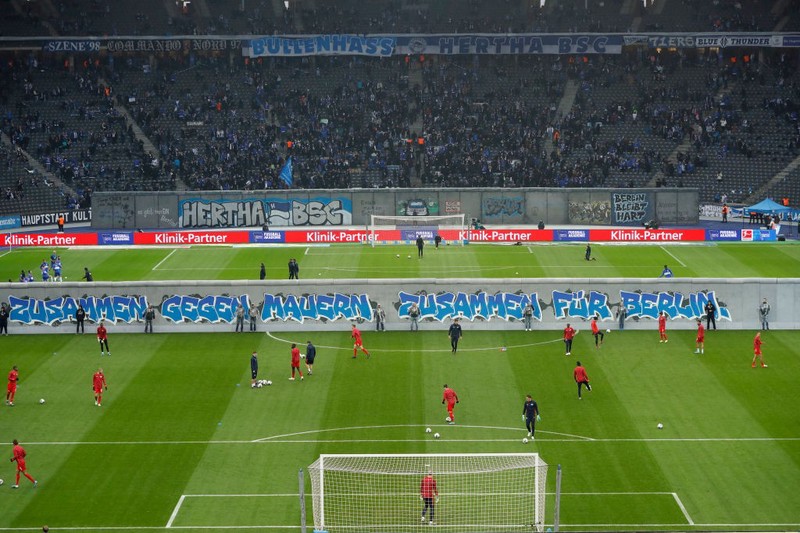 All talk of these being "unprecedented times" always makes me chuckle. The spectacular failure of the average person to understand the reality of even mankind's recent past is astounding. For example, free movement in one of Western Europe's greatest capitals was all but a dream for 4 decades while the Berlin Wall remained intact with families, friends and football clubs isolated from one another by the Cold War.
Hertha had been a well-supported team across all Berlin prior to its division but after the construction of the wall found themselves in the Allied controlled districts of the West. As a result, those supporters unlucky enough to be on the wrong side of that wall were no longer able to attend home games, sound familiar?
Meanwhile on the other side of the wall Union Berlin were sponsored by The Free German Trade Union Federation, the state-controlled workers union in East Germany. Even during the division of Berlin, Union were the underdogs regularly losing out to their rivals Berliner FC Dynamo who were sponsored by the Stasi. It perhaps won't come as any great surprise to hear that Berliner FC Dynamo's relationship with the much-feared secret police of East Berlin led to allegations that their league dominance wasn't always above board.
30-years on from the fall of the wall and there still isn't a huge amount of real estate separating these 2 teams with Hertha's win over Hoffenheim last weekend taking them 1 point and 1 place above their city rivals.
Union, in general, have performed beyond expectations in their debut season in the Bundesliga and made Bayern Munich work hard for a win in their first match back since lockdown.
Hertha meanwhile are now on their 3rd coach of the year after Bruno Labbadia took charge following the departure of Jurgen Klinsmann. Getting the best out of flair players the likes of Krzysztof Piatek and Vedad Ibisevic while also shoring up the defence will be Labbadia's primary aim and he showed that he's already made progress with an impressive victory in his first match in charge.
Union meanwhile have their own goal threat in the shape of Swedish striker Sebastian Andersson who has already netted 11 times this year. A large part of their power up-front comes from a well-drilled set piece so it's fair to say that Hertha will be challenged in this match.
Enhanced odds for this game
Hertha to win 2.5
BTTS 1.8
2-1 Hertha 14.1