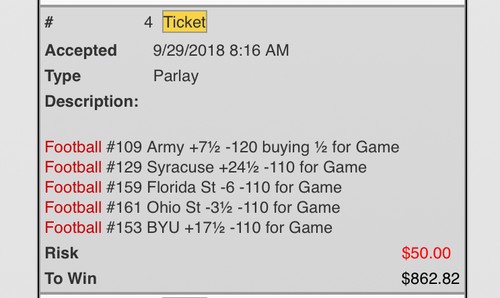 Had to rub the rabbit's foot today. So many good games going off today, hard to choose so i chose them all in one lucky $50 smash ticket for $862. Lets see how I did today.
Taking Army +7.5
Taking Syracuse +24.5
Taking Florida State -6
Taking Ohio St -3.5
Taking BYU +17.5
I absolutely LOVE the ARMY , FSU and BYU Games. I think those will be solid today at least. Syracuse against Clemson we will see and Ohio State Urban Meyer return we will see if they can light it up on Penn St. Looking forward to these games. Since im up this week its time to take a wild 5 way parlay and see what happens. I've hit 4 of these last year, and today could be the day.
As Always If you question my Accuracy Stats you can either review each post here, I don't erase any picks wins or losses, or just go to my BIO to see my Stats. I update them after each game in completed.
Sports Picker: MLB 5-8 (62%)NFL 7-13 (54%) NCAA 11-16 (68%) NCAA Parlays (0 -0)
How to find me
Steemit: www.steemit.com/@theUXyeti
Steemit: www.steemit.com/@sugarsteem
Discord SugarSteem: https://discord.gg/WspdjKQ
Discord: TheUXyeti or TheUXyeti#5698
Dlive Channel: https://dlive.io/@theuxyeti
IG: thetravelyeti
Twitter: www.twitter.com/@zachsbb8
Scorum: https://scorum.com/en-us/profile/@theuxyeti