Heroic De Gea's performance against Tottenham helped Manchester United prevail and Solskjaer became the first MU's manager ever to win his first 6 games as a head coach. That is a very impressive achievement and Manchester United are now sitting in the 5th-6th position with Arsenal, only 6 points behind the Champions League next season. Remember when before Christmas we thought that MU would be happy to finish in the top 6? Well, things have changed now and I am sure that MU won't stop now. They have to push hard and expect Chelsea or Tottenham to crumble. Given that Spurs lost Kane for 2 months and Chelsea will play Arsenal next, anything can happen.
My Bet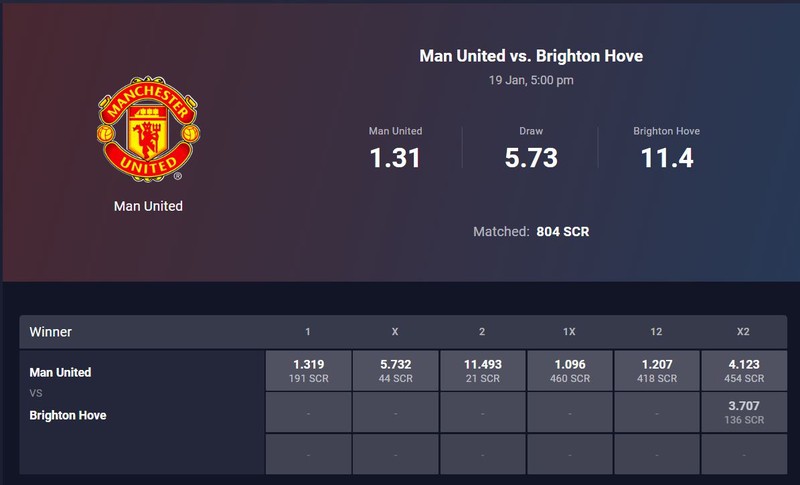 Manchester United -1.5 @1.95
The odds at SocrumBet for the handicap are not yet in but they should be soon before the game. I understand that Brighton are displaying a solid defense this season but I have a feeling that Manchester United will be fired to continue winning and won't stop if they score the first goal. Most of the times under Mourinho MU would just go to defense after taking the lead but it Solskjaer is different - he allows his players to keep attacking after scoring the first goal. Well, at least against weaker opponents. No bet is safe and if Brighton defends well for the first 60 minutes were might be some problems, but I have a feeling that MU should take the lead in the first half and finish the game with a second or even a third goal in the second half.
Manchester United's Form
MU look like a different team under Solskjaer. I must admit that I was wrong to think that they would stand no chance against Spurs. I guess I just forgot how great De Gea is as a goalkeeper. But you know what does that De Gea's performance show? Manchester United started to believe in themselves again and players play with confidence and authority. I have not seen that at MU' camp for a long time. As for De Gea, I think he produced the best goalkeeping of the season thus far because most of those 11 saves were quite deadly and not just random shots from 25 meters:
I have seen many speculations about a new coach coming to MU after this season but if Solskjaer manages to keep MU playing like this, I am sure that he will get a chance to lead the team next year as well. However, we must all recognize the fact that De Gea cannot and won't save his team like that all the time so MU really have to do something about their defense. If you look at Tottenham's chances, you can understand what I mean.
Apart from that, I have nothing to add as MU's attack is as good as it ever was since Sir Alex Ferguson left the club. And I love the fact that Solskjaer trusts young players like Rashford and Martial instead of choosing the obvious option in front, Lukaku. There will be games when MU will be behind in the second half and having a super sub like Lukaku is always a great option.
There were also rumors that Fellaini wants to leave the club as he doesn't get to play under Solskjaer which makes sense. As I said before, Solskjaer relies on fast players and rapid attacks. Fellaini is not exactly that type of player and he should find a job elsewhere where he would fit. Nothing against him, though, as I think that he is a brilliant player with certain skills which you have to know how to use.
Brighton's Form
Brighton are playing quite well lately, which is a little bad for this bet. Even though Brighton only scored 5 points in last 6 PL games, should not make you think that Brighton are incapable of doing damage. They managed to drew Arsenal and beat Everton lately and also won against Bournemouth in the FA Cup. Also, Brighton only lost to Chelsea and Liverpool by 1 goal which is not a tragic result and shows how great can Brighton's defense be.
In fact, Brighton have not lost by more than 2 goals this season which once again proves that their defense is solid. Even I cannot argue that. However, I think that MU's momentum should be enough to let them win by 2 or maybe even 3 goals even if some statistics don't back me up on this.
Brighton are 8 points clear from the relegation zone and only 6 points behind the 7th spot. Many things might still happen this season but I don't think that Brighton are capable of doing anything far from the norm - they are currently in the 13th spot and I feel that they belong there. In the first meeting this season, Brighton defeated MU 3:2 but that was probably the only surprise they pulled so far. Other from that, Brighton usually win against weaker opponents and get beaten by stronger teams. That is why I don't expect too much abnormality from them.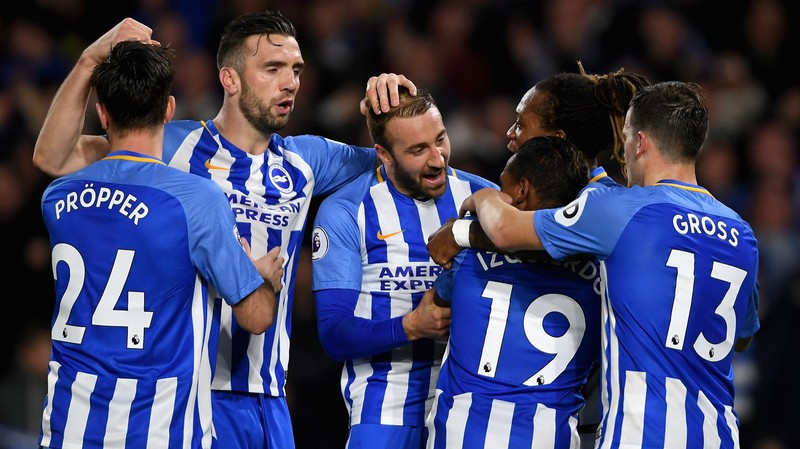 Strengths of the Bet:
Manchester United are on fire and Brighton are not the team that can stop them. After De Gea's heroics, all players will have even more motivation to fight for the 4th spot now so beating Brighton is a must.
Fans finally have hope so I expect Old Trafford to be lit creating a wonderful atmosphere for the Red Devils to thrive in. As for Brighton, they will have to deal with a lot of pressure from MU's fans which might not be the deciding factor but it will influence the flow of the game for sure.
Manchester United's attack is working well under Solskjaer so far. Rashford, Martial and Pogba play wonderfully. I guess Pogba was right when he said that he could not show his full potential under Mourinho's tactics. Well, we see his potential now. So, even though Brighton's defense is well functioning and solid, I think that quick players like Rashford and Martial will find ways to break it.
De Gea boosted MU's defense a lot against Tottenham. I do have a feeling that defenders will start to play with more ease now, knowing that they have De Gea behind them. Usually, when players relax, they provide much more quality. I do think that MU will keep the clean sheet against Brighton. At worst, they will concede one goal. I don't believe that more is possible. In fact, if Brighton score 2+ goals, I will send 20 SCR to anyone who leaves a comment about this game and writes "Go Brighton" at the end of the comment. This way I will know that you read my posts as well. Only the first person who writes this will qualify for this hidden competition.
The fact that MU already have the same amount of points as Arsenal and are only 6 and 7 behind Chelsea and Tottenham will boost the spirit of this team even more (if that is still possible). Imagine how those professional players would love to shut everyone who doubted them (myself included) in December.
Weaknesses of the Bet:
There is only one major weakness - Brighton's defense. Brighton only conceded one against Liverpool last week and have not lost by more than 2 goals this season. That is a little scary but once again, I think that MU's attacking potential will be enough to defeat Brighton's defense at least twice.
My final prediction is Manchester United 2:0 Brighton. What do you think about this game?