This is the third post of my betting results every week with my usual bookmaker 1xbet. This one is for August 15 to 21. The stake is flat 10 units as usual.
---
I started well with some good results from the Russia Premier League that have resumed with only Dynamo Moscow and Rotor failing to provide a good result on the August 15. I somehow dodged the Manchester City banana peel by going for the general goals market and not individual team own.
---
I lost 3 good bets with Rangers on August 16 and 2 were inplay bets. 79% possession and 23 shots with none finding the net. It wasn't my day and goodluck to Livingston with their good backline.
---
17th to 21st saw me lose just 2 games and it was a great feeling trust me.
---
League football is returning with the Ligue 1 back. I look forward to more leagues returning so I have lot of matches to bet on.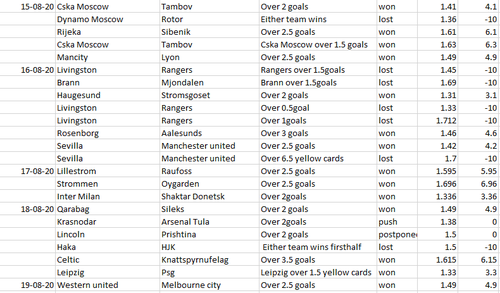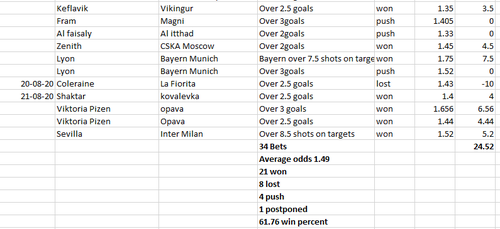 I placed 34 bets in the 7 days period with average odds of 1.49 which is a decrease to last week 1.549. 21 wins from 34 bets means I have a 61.76 win rate with 8 bets lost a decrease from last week 15 losses. 4 ended as push with 1 match postponed. I am currently up by 24.52 units.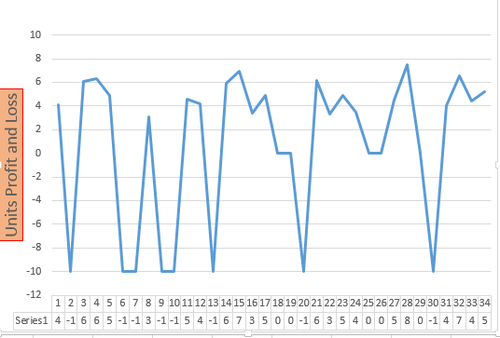 You can see the line graph above showing the profits made in units and also a picture showing all my bets for the week.
Stats
34 Bets
21 won
8 lost
4 push
1 postponed
24.52 units profit
61.76% win rate
Stay tuned for next week update. You can follow my blog Nairatag.com for more betting tips.
---
August 1-7 final betting results +31.13 units