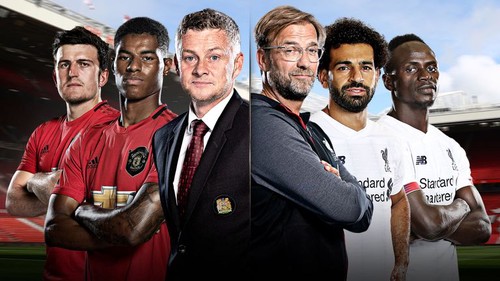 It is super Sunday. Manchester face Liverpool in a big clash that could decide the future of both teams. Manchester united can secure a win that will turn their season around. Defeating Liverpool who has won 8 out of 8 can reshape their season for good. Liverpool on the other hand will hope to make it 9 from 9. They are in devastating form and will want to continue that.
Manchester united
I have never seen a weaker Manchester united side than this in years. They are weak from the board to the players. Poor transfers, a tactically inept manager, and poor players. They are currently winless in their last 5 matches in all competitions. This match is a must win match for them if Solskjaer hope to keep his job. They are currently depleted with David De Gea injured, Paul Pogba injured, and a couple of doubts surrounding Lingard and Martial. It is not looking good for Manchester united.
---
They don't have the replacements for these unavailable players. Pogba is the key midfielder they have and losing him to injury for this crucial match is a blow. The likes of McTominay and Nemanja Matic will have to step up and replace him. Well, let's assume that is solved.
---
They also have goal scoring problem. Manchester united have not score 2 goals since their 4 goals haul against Chelsea. That's 10 matches now producing 7 goals while they conceded 7 goals. The strikers are misfiring and that doesn't look to end any time soon. They haven't score in their last 2 matches in all competitions. It's a source of concern for Solskjaer as they face in form Liverpool in a match that could see them drop as low as 16th position if they lose heavily.
Liverpool
The most in form team in Europe top 5 leagues. They have not dropped a point so far this season in the league and are 5 points clear at the top of the table presently. That can turn to 8 points clear if they win this match. Klopp knows what to do. Win and you gain momentum for the rest of the season.
---
The records are against them but records are meant to be rewritten. The last time they won at Old Trafford was back in 2014 when Steven Gerrard scored 2 penalties and missed one. They have been unable to win ever since then. Jurgen Klopp will be hoping to change that.
---
They are the Champions of Europe which means records don't mean a thing to them. There is no fear in their mind and they will come out to demolish the Red devils from kick off. Klopp will hope Salah is fit for the match.
---
Liverpool have been good so far this season and are blowing teams out of their way. They have defeated other contenders such as Chelsea and Arsenal which means they are ready for business. The absence of Pogba will see Fabinho play with ease. This may force Jurgen Klopp to go for mobile midfielders with Chamberlain likely to start. They will run round the static Manchester united midfielders and hope to draw some fouls from them.
---
Martin Atkinson is the center referee and that is double problem for Manchester united. He is no-nonsense and won't hesitate to show a card for any tackle. 8 yellow cards in the North London derby between Arsenal and Tottenham shows the kind of officiating we will witness
Prediction
I strongly write Manchester united off in this match. They are no match for this Liverpool side and the quality should show throughout. They will commit lot of fouls and might even get a player sent off or concede a penalty kick.
Total match goals over 2.5 goals at odds 1.92 on betscorum