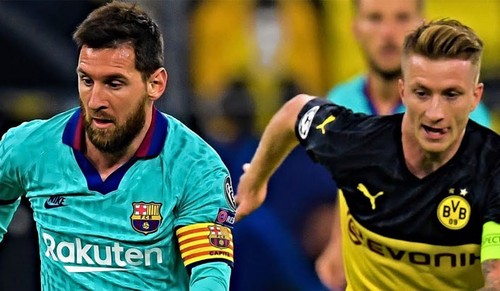 De Ligt played yesterday and that means the Juventus bet lost. Well, that was a side bet as the main bet which is the Real Madrid vs PSG game won. The game looked like it was going to be an under 2.5 but everything changed all of a sudden with 2 late goals by PSG.
Yesterday is gone and today is another to win something.
---
Barcelona face Borussia Dortmund in a very tricky game that may determine who tops the group and who may not make it to the next stage.
---
The first leg between both teams saw them play a 0-0 draw with Dortmund feeling they should have gotten something out of the match. This is the second leg and there is opportunity for them to set the records straight. Both teams are tied at 7 points with Inter Milan in third position with 4 points. As things stand now, the group is still open and anybody can qualify.
---
Barcelona are favorites to secure full 3 points in this game and they should dominate this match. They have injuries concern especially to their full backs. Semedo and Jordi Alba are currently out injured and Gerard Pique is suspended. This means they have to bring in Umtiti, Firpo, and Sergi Roberto. It won't be an easy match for Barcelona as their shaky defense will likely undo the good work their attack might provide.
---
They had to comeback to win against Leganes in the league and would have lost to Slavia Prague if not for poor finishing from the Czech Club. If Barcelona should replicate that performance against Borussia Dortmund, they will lose by a huge margin. They won't want to take things for granted.
---
Borussia Dortmund are not in the best of form. They lost 4-0 to Bayern Munich in the Bundesliga and had to comeback from 3-0 down against Paderborn to draw the match. That's 7 goals conceded in just 2 matches. I expect that to continue when they face the Catalan giants at Nou Camp. They know they are shaky defensively and would want to attack to save their defense from total destruction. It is going to be an open game with chances at both sides. It might even end in a draw full of goals.
---
Over 2.5 goals looks great in this match.
---
Goodluck and stake wisely.