Last night after the clock ticked past 12 midnight I found myself in yet another pool bar. I have been playing a bit of pool since coming back to South East Asia, perhaps once every two weeks or so? But for the past three weeks I have been playing steadily around twice a week and something has just clicked in my game, I am seeing angles clearly, potting balls for fun and rarely missing two shots in a row. Am I a great player? No, but I have noticed that the guys I usually play with who have between 3 to 15 years more experience than me are not in my sights and I am picking up wins.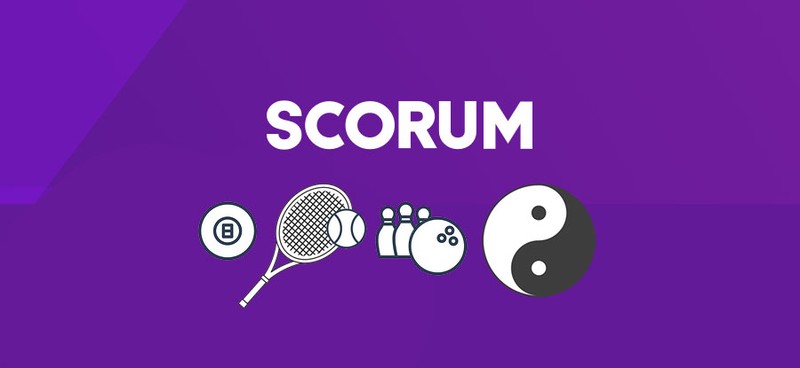 Two weeks back I was playing pool doubles with my twin brother and two mates. We were at one of the better pool bars in Bangkok, they have brand spanking new pro pool tables. My mate is a great player and has been playing for a long time, his mate is meant to be decent too and I know my twin has been playing for around 4 years now whilst I have around 1 years worth of real experience. It was me and my twin vs my mate and his mate. On my chance I managed to clear up the rest of the table 3 games in a row. Me and my twin ended up winning 4-2 which was impressive considering it was against my mate who has way more experience than us both. My twin has been playing for around 3 years more than me too - I am pretty much the newbie.
So last night I was 10 wins to 0 against players all of who had a lot more match play experience vs me at pool. I came up against the supposed house pool shark in one of the bars, how good is he? Well I have seen better, but off a break he will clean up maybe 50% of the times. He gave me only 2 chances to clear the table on to the black. I managed to get there on the second turn potting 5 in a row including a couple of tricky ones (he was on the black already). I left myself in a poor position on the black, the double wasn't that appealing to me, i'm not a fan of them though I am getting a little better now. My strength in pool is the angles, I love the mid pocket pots and prefer angled shots over straight pots (no idea why I am better at the angles than the supposed easier straight pots). So I named the pocket for the black, it was an improbable shot to make - outlandish even. I could see as much by the look in the pool sharks eye when I called the pocket for the black. Here's the pot I made bearing in my mind if I missed I would have lost the game almost certainly: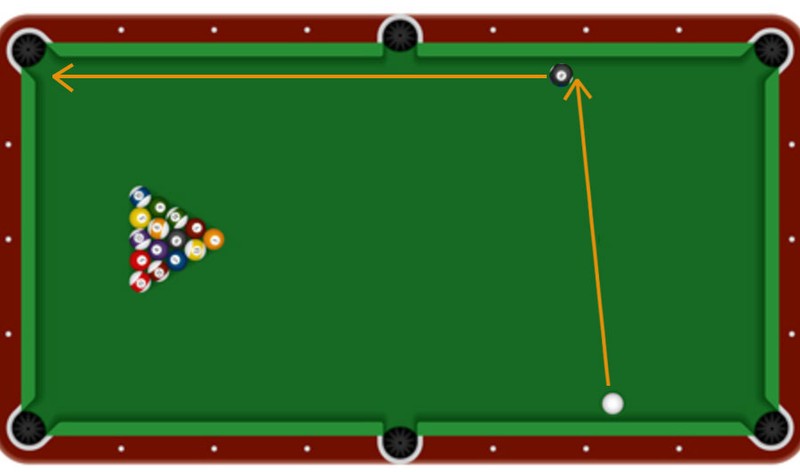 I know I like my angle pots but this was probably the most extreme one I have executed never-mind on the black as I haven't played pool for long. I didn't take long lining up and my technique wasn't great. My mate told me I should have my chin down on the cue when potting so to make the shot the way I did was even more improbable and layman if you like. Making the shot on the black felt bloody good! After I sank it with a slow cut, the pool shark was shocked with what he saw. He couldn't quiet believe I picked this pocket and how I made it and was lining up the cues on the table afterwards to tell my mate in Thai (I don't speak thai very well) that the chances of making this shot are so so low.
The next game I played was against my mate, he's a very good player and he's been playing for around 15 years too to my 1 year, he knows how to work the table but he was playing with a so so partner and my twin had gone to the toilet leaving me to hold the fort! Again on the black I sank another improbable shot. Let me show you the set up for it here: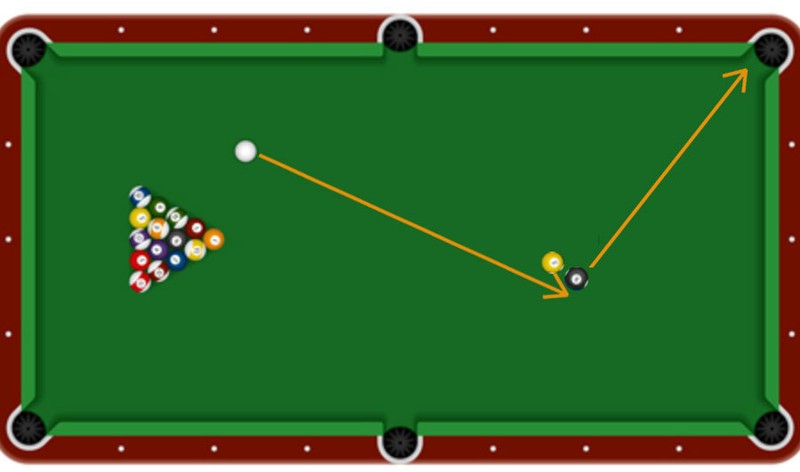 This second shot on the black I enjoyed even more than the first because the black was tucked away behind my mates ball. I only had a slight angle on the black to be able to finely cut it into the bottom left corner and it would need to be hit at a good pace because of angle was so acute. Again I didn't size up the shot for long, I went for it within 5 seconds of lining it up. This was the game directly after the previous black pot.
I went on last night to play another 8 games including one more team one against another pool shark, the rest against regulars in the many pool bars winning all of them. I just felt so comfortable and relaxed at the tables. Some many think it was the many new years eye beers I drank! Maybe this helped me relax haha but being drunk can hinder your game too, who knows!
What's the Deal Then?
After I played the first two games with the tight pots on the black I started to wonder why I am suddenly potting balls much more easily than before. I haven't been playing so regularly and my whole life's worth of pool experience has been very patchy and sparse - as in virtually none existent. I have played the odd game when I have been on holiday when I was younger in the UK and had the odd game here or there at the bowling alleys. So apart from the last year playing once every two weeks something else has got to explain the change in consistency.
Then it came to me, I play many other sports that involve ball and stick combinations. Tennis I have played three times a week for the past 5 years now, it's my favourite sport to play, that involves holding a racket and hitting a ball very precisely over the net, working the angles, playing soft to hard on occasions - transferable skills to pool for sure. Then there's bowling, I haven't played loads but I do play once a month and usually 6-7 games at a time, my score average per game there isn't great, I usually get between 120-150 points per game so certainly nothing to shout home about. I also do a martial arts which is very heavily focused on the hands and moving them inches rather than big movements apart, this has substantially improved my coordination for the past 10 years, especially with my weaker left too.
I also thought I'd add to this the fact that even though I never quiet got going with golf and hitting the ball straight consistently, I have always been an excellent putter. My short game is where I shine, I use to play pitch and putt a lot as a kid. So on the greens I would usually out perform some of my mates who were really fine golfers. I would always been puzzled to watch them take ages to line up a putting shot where I would simply line it up and give it a go within a matter of seconds. I could never understand the idea of lining things up and squatting on the green to check curves of the green out, i'd prefer to just try to read the play quickly and give it a go. Putting as part of golf is a very soft part of the play, you have to have gentle hands in a similar way to playing doubles where your volleying at the net. There is very little power or energy involved in both parts of the two games. I would definitely correlate putting at golf with playing pool, they are very similar in the sense of "soft" feel you need and precise direction of the ball. Plus a golf ball and a pool ball are very similar in size.
It's no coincidence that many of the best tennis players are also make great amateur golfers and in general players who play one sport alot generally have other sporting interests, usually rather strong interests. Doing any sport of a similar nature will lead you to naturally being able to transition to another more quickly than those that don't play any other similar ones. So if your a sporty kind of guy, I'd advise you play multiple ones a week and you will find all of them improve together! This is particular important if you get injured and need a second outlet in a sport where you can still participate.
Does this mean I will be taking pool up more regularly though? Not really, I spend most of my down time playing tennis right now which I am loving. This year I plan on designing my own Dri-fit Scorum sports T Shirts to wear when I am playing. Just to support Scorum on a local level in Thailand. I have some experience designing t shirts before for customers so let's see if I can do a decent job with my own!
Playing pool will definitely just be one of those things I do on a night out for a bit of fun with some drinks, but who knows if I become good enough I may start playing or hustling for a few beers!