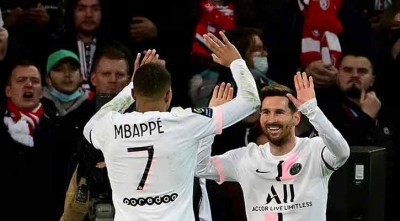 Argentine star Lionel Messi scored the first goal in the new year. PSG beat Lille 5-1 in a match of French League One.
Danilo Pereira scored twice and Kimpembe and Killian Mbappe scored once each. Botman scored a goal early for Lille.
With this, PSG remained unbeaten in 14 consecutive matches in League One. PSG lost the league title by one point to this Lille last season.
Lionel Messi and Killian Mbappe have been on the field since the start of the match on Sunday night. Brazilian star Neymar was not in this match either.
PSG showed dominance over Lil throughout the match. The current champions do not seem to be able to get to PSG. Messi was in possession of the ball as well as taking shots.
In ten minutes, Danilo Pereira forgot the goalkeeper of Lille and put PSG ahead. Van Botman equalized for Lille in the 28th minute. Van Arfa cut De Maria from the goal line to Botman. From there, Bottman's shot was saved by the goalkeeper Donnarumma, but when he could not reach, the ball got caught in the net.
PSG went ahead again in 32 minutes. Kimpembe aimed from inside the box into Lionel Messi's curved corner. Lionel Messi scored the third goal for PSG in the 36th minute. Killian Mbappe tried to enter the box with the ball from the left side, but Lille's two defenders grabbed the ball from him and went to clear it and put it at Messi's feet. Inside the box, the Argentine star saw the first goal of the new year by wrapping the ball in the net with a chip shot over the goalkeeper's head. Messi also scored a goal with his teammate before scoring. He scored the sixth goal for PSG.
PSG is leading 3-1 in the first half. More aggressive Messi-Mbappera back from the break. He also scored goals quickly. Midfielder Danilo Pereira completed his own pair of goals in the 51st minute. The midfielder hit the target with a speed shot from Leonardo Pardes' extended ball Edge of the Box. Killian Mbappe scored the fifth goal for PSG in the 6th minute. The French footballer scored from a shot taken from inside the pass box extended by Marco Verratti.
With this victory, PSG remained at the top of the points list with 56 wins in 23 matches. The current champions of League One are in the eleventh place with 32 points in an equal match.