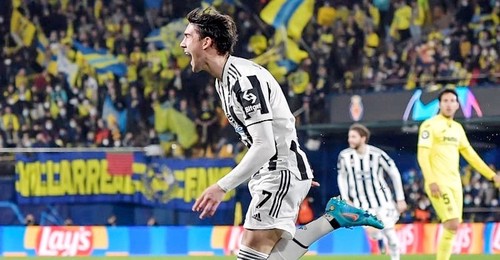 Goals before the match! Just 32 seconds into the head of Juventus camp. But that surge did not last long. Massimiliano Allegri's side could not come back from the opponent's field with a victory even after the dreamy start.
Dusan Vlahovic's teammates failed to score in the Champions League debut. Juventus drew 1-1 with Villarreal in the first leg of the last 16 on Tuesday night.
But before the spectators could move in the gallery, Juvra went ahead. Vlahovich scored a dazzling goal with his right foot by lowering Danilo's extended ball into the D-box with his chest.
The 32-second goal set the record for the fastest goal in a Champions League debut. The previous record was held by former German midfielder Andreas Moeller with a goal in 36 seconds.
Villarreal increased the edge of the attack by digesting the goal in the beginning. The hosts could have equalized in the 13th minute. Argentine midfielder Giovanni Lo Celso's left-footed shot beat goalkeeper Vyacheslav Stasny but the ball stuck in the post.
The hosts kept up the pressure in the second half. Villarreal finally equalized in the 7th minute. Spanish midfielder Dani Pareho sent the ball into the net in the blink of an eye after receiving a teammate's cross in the D-box.
In the 85th minute, Vlahovich had a chance to put Juventus ahead again. But his shot from a distance was blocked by Villarreal's Argentine goalkeeper Geronimo Ruli. In the end, the two teams left the field with a 1-1 draw.
In another match of the day, Chelsea beat Lille 2-0 at home and advanced to the last eight.