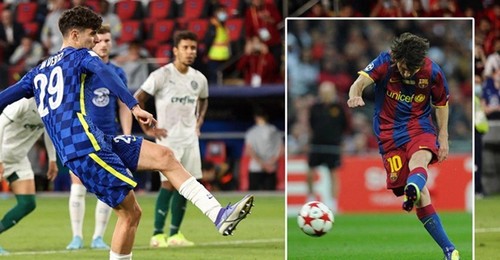 Lionel Messi has set hundreds of records and fame on the football field, all of which may not even be known to Messi's fans. Kai Haverz reminded me of such a record. By sharing a record 11 years old Messi.
English club Chelsea became champions for the first time after beating Brazilian club Palmeiras 2-1 in the final of the Club Continental Superiority Club World Cup on Saturday night. Romelu Lukaku and Kai Haverz scored the two goals to win their title.
About nine months ago, young German midfielder Kai Haverz scored a goal in the final of the European Champions Club UEFA Champions League. This time his goal has confirmed Chelsea's Club World Cup title.
So far, Lionel Messi has been the only player to score in the final of both the Champions League and the Club World Cup. The Argentine superstar scored in the final of these two tournaments in the jersey of Barcelona in 2011.
Barcelona beat English club Manchester United 3-1 in the final of the Champions League. Messi, Pedro and David Villa scored three goals. Barsa then beat Santos 4-0 in the Club World Cup final. Messi scored a pair of goals in that match.
This time, after almost a decade, Messi's partner is the 22-year-old attacking midfielder from Germany