If you're a Filipino and an avid bowling enthusiast, you would probably know who this is... If not, here's a short glimpse into the life of Rafael "Paeng" Nepomuceno.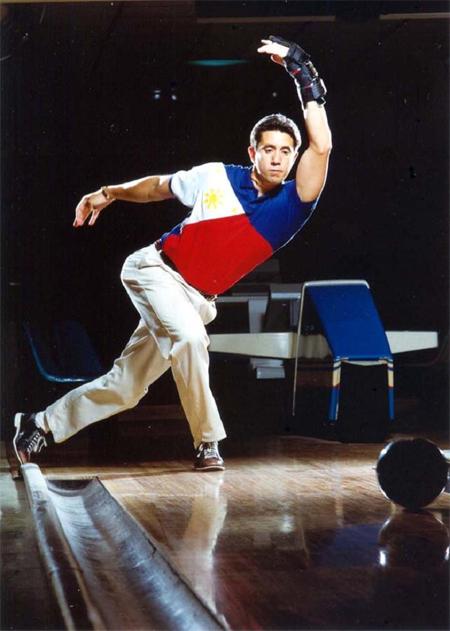 Born on January 30, 1957 in Quezon City, Philippines to Angel Nepomuceno, a bowling coach and Teresa Villareal, former Miss Philippines 1952, Rafael Nepomuceno started early at age 10 with a different sports, golf. As fate would rather have its way, he got interested in bowling after having sought refuge at the Mile High Bowling Center in Baguio due to rain.

By age 15, he won the Philippine Junior Masters Championship, his very first tournament. His love for the sports grew even more and two years after, he not only won the Philippine International Masters but also became its youngest tournament winner.
Four years after winning his first tournament, he competed and won his first Bowling World Cup and was recognized by the Guinness Book of World Records as the youngest bowling champion. He was also the men's champion for the years 1980, 1992 and 1996.
He has three Guinness World Records, which are all unbroken:
* for being the youngest World Bowling Champion at 19 years old
* for winning the most World Titles in three different decades
* for winning the most Worldwide titles in a career
Paeng, as his fans would call him, has won a total of 30 gold medals and the hearts of many during the Southeast Asian Games (SEA Games) in 1981 (Manila), 1987 (Jakarta) and 1991 (Manila).
In 1999, Paeng received the distinction of being the "International Bowling Athlete of the Millennium" during the Opening Ceremonies of the World Championships in Abu Dhabi, United Arab Emirates. This was bestowed to him by World FIQ, the world governing body of the sport on behalf of 100 million bowlers at that event.
One would think that he would stop after all these accomplishments however he didn't and continued to become the oldest winner of the Philippine International Masters in 2011 at age 54.

At age 56, he had won at least 124 career titles, six of which are world titles. His latest title, his 131st, was won at the 2016 PSB Open Bowling Championships Senior Masters in September 2016.
One can go on and on with his long list of achievements however what stands out is the fact that he continues to share his love for bowling by leading the next generation of Filipino bowlers as the Head Coach of the Philippine Bowling National Men's Team and bowling team. He is also a senior lecturer professor at the University of the Philippines and teaches bowling.
Source: Summary of Achievements