I can't lie, I wrote a vivid list of some of my favorite revenge matches in boxing, but I closed the tab and bam.. it's gone!
Maybe it's meant to be, because now I can focus on my favorite tales of vengeance in the ring.. the match between Oscar De La Hoya and Ricardo Mayorga!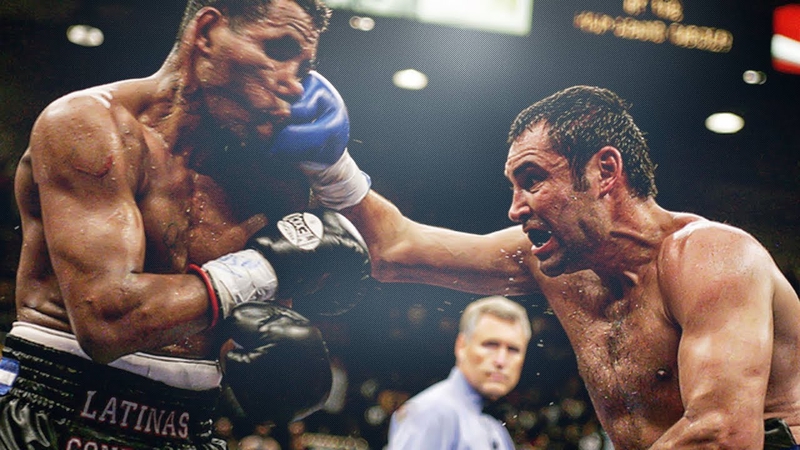 To know Mayorga, you must know boxing, but if you don't that is ok! I will explain why this guy was so polarizing, although mostly hated.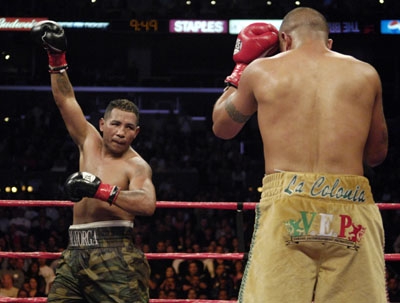 Ricardo was an action fighter, and most of his bravado happened outside of the ring. Most known for his press conference antics, Mayorga was relentless in his insults on opponents families, ordeals, and life situations in general. When he was scheduled to fight Fernando Vargas, he created one of the greatest boxing spectacles of all time. I will leave the video of that presser below, and you can decide for yourself if this guy was enough a dick to hate... plus some old school Don King antics are always fun to watch.
Mayorga also encountered a lot of good fighters in his career because he had an iron chin and was down to throw with the best of them. The key with Mayorga was to never brawl with the man, that was his wheelhouse and the only chance he had to win. It was always a dangerous game getting in his face both outside and inside of the ring; he was a serious madman and it wasn't pretend.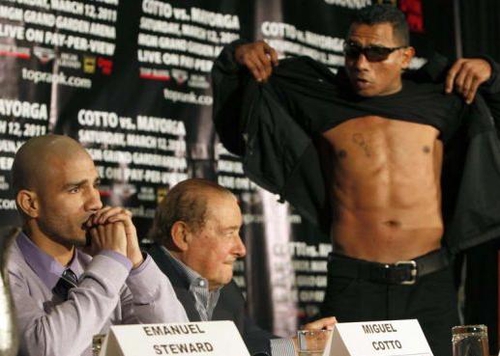 When Mayorga was a bit older along with Oscar, it seemed like a perfect matchup. In his prime, De La Hoya was a magnificent lightweight who destroyed the old guard in Pernell Whitaker and even 'Jazzy' Jeff Mayweather, Floyd Jr.'s uncle. Prime 'Golden Boy' would have demolished Mayorga, but Ricardo was such a tough bastard that even the best guys struggled to hurt, and get him out of the fight.
The 2006 matchup between these two old dogs was built up by a lot of unbridled rage on the part of Mayorga, but a lot of understood rage on the part of De La Hoya. A marriage to former model Shanna Moakler with their daughter Atiana became the highlight of most media stations on the early 2000s decade. Mayorga took full advantage of knowing Oscar was a private man, and he said many things about his family including his 'beautiful' daughter and wife. Mayorga claimed to have sex with Fernando Vargas' wife and Oscar's.. setting them both off in different ways. Vargas wanted Mayorga's head on the spot, but Oscar stayed silent, yet close to the edge in his preparation for this fight.. he was a different beast.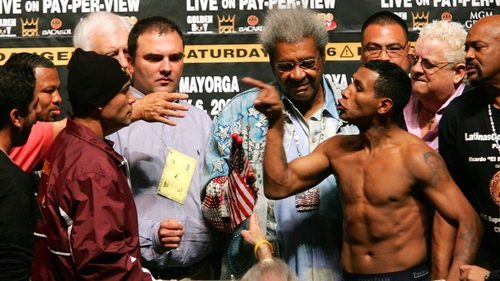 The night of the fight was incredible. Mayorga really did have an iron chin and had never been hurt or knocked down in any of his fights (except for his debut in 1993). The brawler and chain smoker was an absolute savage in the ring, and although his boxing technique was never all there, he had a hell of a right hand and could swing with anyone fearlessly.
Unfortunately for Mayorga, Oscar was ready to punish him for all the things he had said. With his shorts labelled Oscar on the front, and Gabriel on the back (for his son), De La Hoya carried the spirit of his family with the will of 1000 men to lay an eternal beatdown on one of boxing's scumbags.

De La Hoya was able to knock Mayorga down with a heavy right hand early, and from then on it went downhill for the once thought maniac. The carelessness of a brawler with an iron chin turned to despair as he realized the 'Golden Boy' in front of him was not the smiling, jovial character of norm.. he was a beast intent on protecting his name and family and nothing would stop him.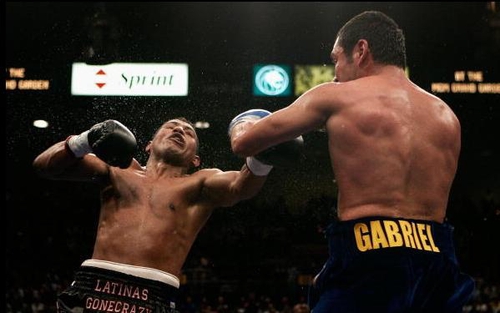 The last 2 minutes of Round 6 seemed to engulf De La Hoya with rage. He decided to brawl with a wounded Mayorga on the ropes, and in a very dangerous and ill advised fashion of fighting, De La Hoya started swinging with all he had while ignoring every shot thrown at him.
You can see the spirited rage of De La Hoya as he unleashes hell upon Mayorga for that last half minute. Each punch had intention, and nothing Mayorga landed would hurt the man hell bent on revenge. Ricardo had immense cajones, and he never took a knee until after the ref pulled De La Hoya off. One must resepct the will of such a man, but one doesn't have to respect his antics or character as they are divisive to his fighting nature.
Start this clip at around 7:40 in to see the second knockdown, and the legendary finishing sequence:
De La Hoya fought for his family that night, and it was the performance of his life.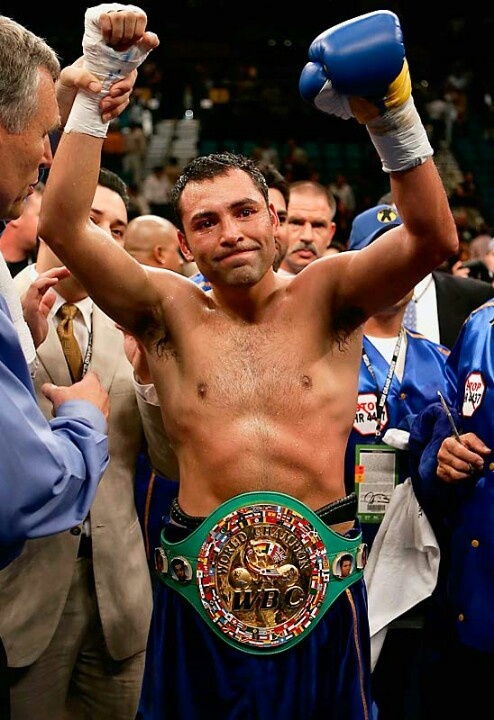 I will be back with another vengeance series soon if you guys liked this one! Let me know in the comments below, and see you soon!