The teachings of Musashi claim that 'all battles are waged through deception'. Those willing to deceive at all costs are willing to win at all costs!
Deception comes in many forms, but most relevant to combat is physique and fortitude. One can only judge the physical characteristics of an opponent before entering the ring; men like Mike Tyson and George Foreman never had a worry in proving they were physically worthy, but there are those less notable in physique, yet just as proven and prolific with their knockout power!
Well let's get this list started:
Deontay Wilder: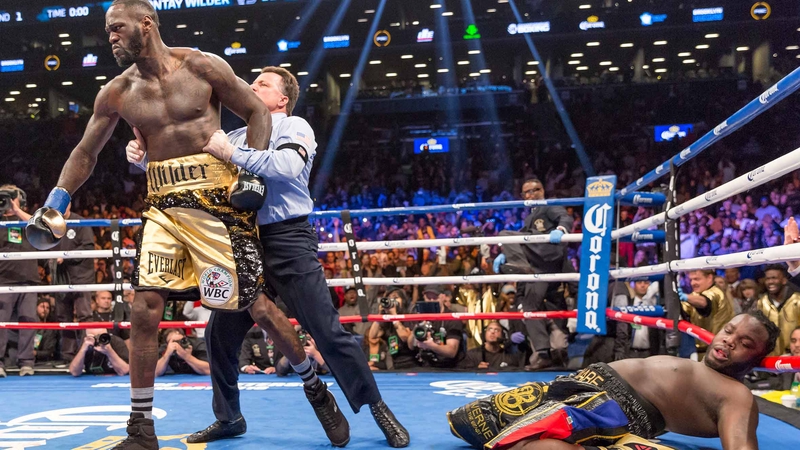 In no way is Deontay Wilder the best fighter on this list (since Hearns is here), but he sure as hell is one of the most freakishly powerful and frightening fighters of the modern era. An earthshattering right hand is the equalizer in Deontay's bag of tricks, and it's all he's needed in 40 wins with 39 knockouts... that is a 98% knockout rate if you were wondering. The man he didn't knockout was Bermaine Stiverne, the former WBC champion, and he basically pummelled him for 12 rounds with a jab we hadn't really seen in full force before.
When the rematch occurred, Deontay made sure that he was going to get that KO.. and he did spectacularly.
Deontay is incredibly deceptive as his physique is that of a track runner, but his power is that of a heavy lifter. His technique is god awful, but his dynamic punches with the fearlessness to throw off balance is actually more effective than not.
Here is the knockout of Stiverne in motion:
Thomas 'Hitman' Hearns:
Most notable for his reign as welter and super welterweight champion in the early 80s, Thomas Hearns was one of the leanest man under 160 pounds you may ever see. At a lean 6"1, Hearns fit into the weight class as compact as his jab was.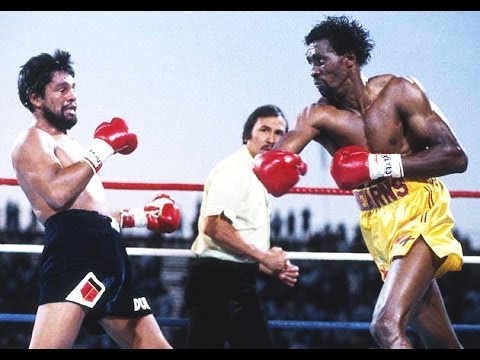 The tight, snapping blows of his freakishly long arms rocked many durable fighters to sleep. A brilliant 66 wins at the end of his career with 48 knockouts gave him an over 70% knockout ratio in one of the smaller divisions in boxing. Hearns could have filled out to a crusierweight with his height, but he preferred the route of deception and having a complete advantage over most everyone in his weightclass.
One of the 'three kings' of his era, Hearns may have been the hardest hitting skinny guy I've ever seen. His jab was MEGA, and he was able to hurt an incredible durable middleweight in Hagler with those shots.. but eventually succumbed to the bigger man. The beauty of combat is that there are no equations to one man; Hearns finished Duran in the ring while getting whooped by the legend Sugar Ray Leonard... and Duran beat Sugar on their first meeting! You just never know when hands are flying, sometimes the skinny guy is the most fearsome!
And here is one of the hardest single punches in boxing history:
Mark Breland:
A somewhat lesser known boxer of his era, Mark was a solidified welterweight in the mid 80s-90s who was always on the fringe of a title.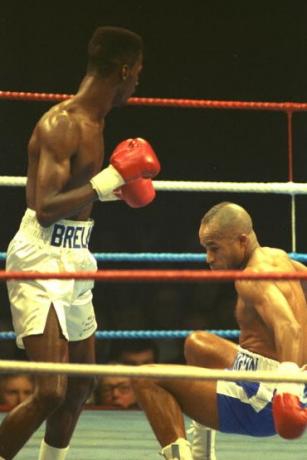 He was never able to secure a championship belt, but he was always deceptively strong for his size.
He always stands out to me as one of the skinniest guys I had ever seen in the ring, but he had great technique and movement which looked refined for his somewhat lanky and off balance frame.
Mark doesn't have many notable wins (as welterweight was a complete wasteland post '3 kings' era), but he does have a notable draw with Marlon Starling who actually took Floyd Mayweather Jr. to school in the ring. Breland is an example that ANY body type can be used for combat.
These bad boys are representing for the skinny guys who don't look like much.. but can bang like the best of em'!