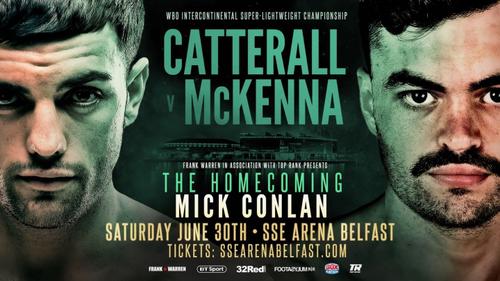 Round 1
McKenna opens strong using his long reach to gauge the jab and pace himself. Catterall is a hard headed bull out of the gate pushing Tyrone all across the ring winging left and right handed bombs. McKenna is landing solid counters, a left grazaes Catterall and gets his attention. The action is high paced and close in measure, it is an exhilarating matchup already within the first round. Catterall has no quit and has pressed the action the entire fight although eating a few counters here and there, his ring control is very plausibly winning this fight.
10-9 Catterall
Round 2
Catterall again pushes the pace and McKenna retreats into the ropes while clinching. McKenna is still the bigger, longer, and seemigly stronger man at this point, and he's controlling Catterall well. They are both exchanging bombs thouroughly with McKenna landing at a higher volume. Lovely combinations off the back foot come across for McKenna, but he's bleeding from the forhead. Catterall continues his pressure and a big left hand lands on McKenna while he is falling.
Much confusion as the ref calls a slip as the punch landed in a falling motion. A point is taken from Catterall and controversy is now a talking point! McKenna uses a few minutes of rest and the boys are back at it... Catterall continues his hellacious pace and throws an immense combination of rights and lefts at McKenna's head and body... he gets the knockdown and it's for real this time! The end of the round saves McKenna's dizziness.. we're on to the next!
10-9Catterall
Round 3
McKenna has his head back on after two knockdowns in the 2nd round. He is counterpunching well off the back foot but he's a bit short with his shots. Catterall showing championship mettle with his aggression and pressure along with the power off the front foot. McKenna seeks to clinch and he's getting in solid work from range. Catterall is still in control of the pace of this fight, and McKenna seems to be fighting for his life out there. Not much is landing on Catterall, and he's turning up the pressure. Both men are a bit sluggish towards the end of the round, and both save their breath from the 10 second bell and on... To the fourth round we go!
10-9 Catterall
Round 4
McKenna has recovered incredibly well and is controlling the pace. Catterall is of course backing him up by nature, but the pot shots he's throwing are landing, and Catterall is showing a crimson mask. They are both beat up and talking to each other, it's a slow paced dance right now but Catterall is smiling for the latter part of the round. On to the fifth..
10-9 Catterall
Round 5
Jack Catterall comes to McKenna like a bat out of hell and drops him with a chopping left hook to the body. The ten count is over, and McKenna stands up...Catterall is chasing him down into the ropes and hammering his body and over and over again. McKenna is showing immense bravery clinching, and hanging on as long as he can. McKenna has the prior wound reopened, and he's bleeding profusely. The fight is firmly in the hand of Catterall going into the sixth round...
10-8 Catterall