I am going to limit this list to 3 fighters in particular... just because I could get carried away for an eternity on this topic.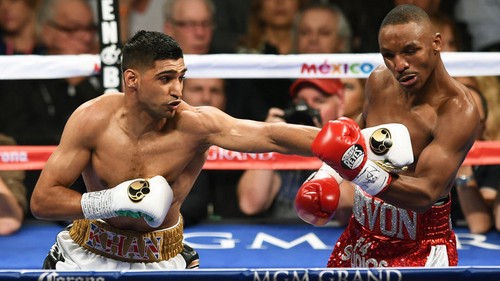 #3. Gary Russell Jr.
If you've never seen GRJ fight, correct that error today. I've left a clip of his handspeed down below, and he's arguably got the fastest hands in the sport.
Gary matched Lomachenko with speed, and it was only the angling and precision that lost him that fight. If someone were to go toe to toe with Gary for prolonged periods, they'd experience volume punching to the head like nothing else. Gary is a phenom with his speed, and only the top tier athletes can compete with this marvel.
#2. Amir Khan
This is a close one to me as Amir has some of the fastest hands I've ever seen. In the ring Amir is a UK icon, and his skillset is one of a kind. The only downfall to Amir's legendary skill has been his inability to take a punch, but if he was a bit more durable, he's absolutely be in the greatest of all time discussion! Nobody can blitz or launch a jab like this man; the fundamentals, speed, and accuracy are always on display in a Khan fight... and I've left a little taste for you to understand what I'm talking about.
Instead of showing you a fight, I will show you something a bit more practical... fast forward 20 seconds in to see some clever handspeed and precision.
#1. Manny Pacquiao
The PacMan. Nobody can top a prime Pacquiao in peak form. When he debuted in 2001 as a short notice replacement against the current IBF champion in Lehlo Ledwaba, he was nearly a 5 to 1 underdog. Jim Lampley ate much crow that night as he revelled in the speed of this young Filipino phenom. The combination punching and speed carried PacMan through six weight classes and numerous championship titles. As a middleaged man he is still one of the most watched athletes in the world and still carries the speed and power to dominate 90% of the division. He is an absolute masterclass of speed, precision, and skill. Enjoy highlights of arguably the greatest action fighter of all time!
And that's my top 3!