After an incredible tug of war for 9 rounds, nobody could have imagined the 10th topping them all!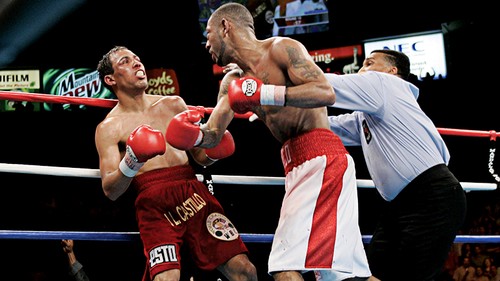 These two men went to absolute war for the entirety of this fight, and they each took an eternal beatdown to break the other.
Within the first 30 seconds of Round 10 Corrales is dropped by a lethal liver shot which forces him to the canvas.
Joe Goosen, the trainer of Corrales and brother to promoter Dan Goosen had his piece in boxing history by putting his fighters' mouthpiece back in and telling him to 'GET INSIDE' as within the pocket was where Diego was strongest.
With Castillo seeing Corrales hurt, he goes in for the kill and barrages with punches until Diego drops to the canvas again.. this time with a punch to the temple.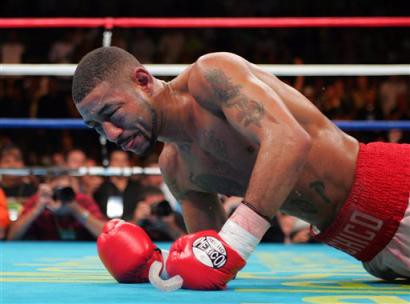 Diego again pushes the mouthpiece of out his mouth and takes 9 seconds to stand. Once he does the ref takes away a point for the mouthpiece shenanigans which in fact bought him some time.
Again Goosen puts his mouthpiece again after soaking it and tells him to 'F**** GET INSIDE ON HIM NOW!'
With only 90 seconds left in the round, Corrales steps once again into the fire where Castillo's handspeed hasn't slowed in over 30 minutes of fight time...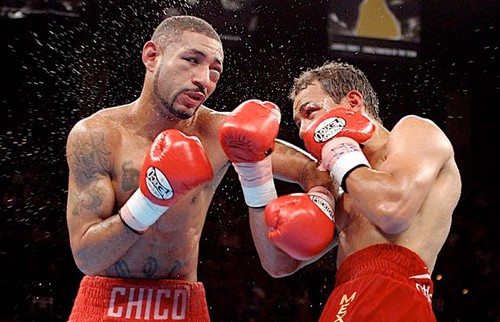 Diego 'Chico' Corrales was always known for his heart and overwhelming volume with power...
...and he put it on full display with only 54 seconds to go in the fight.
He lands a big right hand while eating 3 from Castillo.. but he fires another left and seemingly rocks the exhausted Castillo against the ropes.
Corrales can smell blood and keeps throwing punches at Castillo who is trying to fire back but can't maintain the pace he once did!
Down a point and down the whole fight, Corrales dug deeper than we've ever seen a fighter do so in ring...
Corrales lands 4, 5, 6 punches against the ropes and Castillo succumbs!
Check out one of boxing's best moments in the video above, you won't regret it!